Embassy of Switzerland in Thailand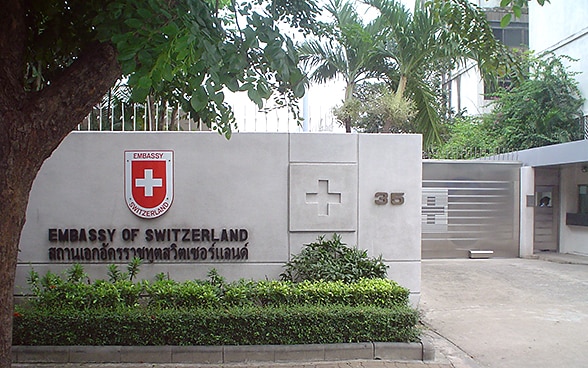 As the official representation of Switzerland, the embassy covers all matters concerning diplomatic relations between the two countries. It represents Swiss interests in the areas of political, economic and financial affairs, legal arrangements, science, education and culture.
Facebook Live #AskTheEmbassy
1st Virtual Town Hall meeting #AskTheEmbassy with the Swiss Community, 22.06.2020
2nd Virtual Town Hall meeting will be on 20.07.2020.
President of the Swiss Confederation Simonetta Sommaruga: National Day 2020 greetings for the Swiss abroad
© UVEK / swissinfo.ch
Consular services in Bangkok
All consular services are available (with the exception of the visa section which is partially closed until further notice). However, if you have to come to the Swiss Embassy in Bangkok, please make an appointment in advance.
Indeed, due to the situation caused by COVID-19, we serve clients at the counter only on appointment and with respect of the precautionary rules (social distancing, etc.) in order to protect everyone as much as possible. Many services can be done by mail and do not require a trip to the Embassy.
New Online Consular Services
The Embassy of Switzerland in Bangkok and its Regional Consular Center is pleased to inform the registered Swiss nationals about the expansion of our online services. The following consular services can now also be ordered and paid for by credit card at the FDFA online counter:
Certificate of nationality and registration
Confirmation of pension
Confirmation of driver's license
Confirmation of Swiss passport
For confirmation of driver's licenses and passports, the respective original documents must be sent to the Regional Consular Center in Bangkok.
These new online services are available to Swiss nationals who are registered at the Regional Consular Center in Bangkok and have their official residence in one of the following countries: Cambodia, Laos, Malaysia, Myanmar, or Thailand.
If you have any questions regarding our online services or if you want to make an appointment, please contact us at bangkok.cc@eda.admin.ch or call us at +66 2 674 6900 .