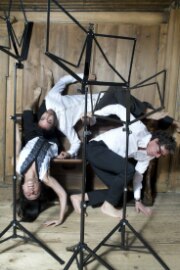 egli_items perform "withOut - A ConcerDance for three bodies"
As if being a string trio, the performers step on stage with their body-instruments, sit down, arrange scores, wait for silence.
Ready: An almost soundless concert starts, a play of bodies following partitions. At the beginning the legendary Bacchanale by John Cage plays –  seen, but not heard: withOut! – By playing without musicians, a direct link and visible connection from architecture of music to the dancing body is created, aiming to achieve movement being watched as music is listened to at a concert.
Sunday, 25 June 2017 at 20.30h, Rialto Theatre, Limassol
Entrance €5 or €20 for all festival performances. Free admission for pupils, students, senior citizens & dance professionals.
Full programme and tickets from Rialto Theatre, tel 77 77 77 45
The festival is organised by the Ministry of Education and Culture of the Republic of Cyprus and the Rialto Theatre in collaboration with the Embassies and cultural centres of the participating countries.