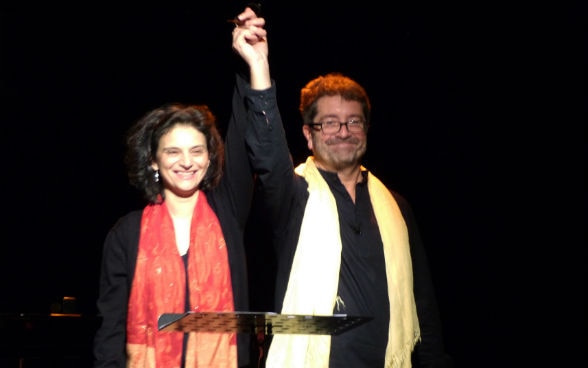 The Embassy of Switzerland has the pleasure to invite you to a literary and musical journey about Charles Ferdinand Ramuz and a reflection on artistic creation.
"Sur un air de Ramuz" is presented by Swiss baritone vocalist, writer and actor, Sergio Belluz and pianist, Ioana Primus featuring the famous French-speaking Swiss writer Charles Ferdinand Ramuz (1878-1947), who greatly changed the literary landscape of his country through his quest for a specific literary francophone language for Switzerland. Through texts and music excerpts, both the uniqueness and the universality of Ramuz' literary world are presented, as well as the musicality of his language found in so many of his adaptations of popular Russian folk tales for the composer, Igor Stravinsky and in his poems set to music by conductor and composer, Ernest Ansermet and composer, Jean Binet.
Thursday, 22 March 2018 at 20.30h
Language: French with English surtitles 
Duration: 45 minutes
Free admission
The Ambassador of Switzerland will host a cocktail after the event.
Swiss bass-baritone Sergio Belluz was born in Lausanne, Switzerland and is both a graduate of the De Ribeaupierre Insitute of Music (where he studied with Romanian soprano Zoe Dragotescu and Swiss tenor Hugues Cuénod) and the University of Lausanne, where he earned a Master in Languages and Literature. As a singer, actor and writer fascinated by the music of words and the words of music, he wrote, created or participated in operas and productions mixing music and literature (Mendelsohn and his contemporaries, Charles Ferdinand Ramuz Writer and Lyricist, Benjamin Britten and Japanese Nô, Luciano Berio and Italian poet Eduardo Sanguineti, Paris/Saint-Petersburg 1900) in Switzerland, France, Spain, Italy, Cyprus, Austria, The Netherlands, Ukraine, Russia and the United States of America. He is the author of CH La Suisse en kit – Suissidez-vous! (2012) and Les Fables de la Fredaine (2016).  
Pianist Ioana Primus left her native Romania at the age of five and settled in Germany with her family. She participated serveral times in Young Musicians Contests and won many awards. Ioana obtained her Music Taeching Diploma at the Hochschule für Musik und Darstellende Kunst in Stuttgart, Germany in Shoshana Rudiakov's class. She continued her studies at the Haute École de Musique in Lausanne, Switzerland with pianist Jean-François Antonioli and graduated with First Prize Virtuosity. Ioana followed numerous Masterclasses and specializes in Chamber Music and musical accompaniment in particular in Lieder and French Art Songs. As a soloist and as an accompanist, she participates in many festivals and recitals in Switzerland, France, Germany, Ukraine, Cyprus, notably with Sergio Belluz. She performs regularly with her musical trio Il Terzetto and gives piano lessons at the École Sociale de Musique of Lausanne.
Charles Ferdinand Ramuz (1878-1947) said that it was through his collaboration with Russian composer Igor Stravinsky for the adaptation of popular Russian tales into French – Pribaoutki (Pleasant Songs, 1914), Renard (The Fox, 1916), Trois Histoires pour enfants (Three Children Tales, 1917) or Histoire du soldat (The Soldier's Tale, 1918) – that his true vocation made its way: "With you I was in close communication", he wrote to Stravinsky, "in the search and the taste for authenticity." Both the search and the authenticity are as present in their work on Russian and Swiss popular culture and myths, as in their search for a musical and literary idiom able to convey their brutal beauty, their humanity and their universality – a humanity and a mythology as essential to the Chansons (Songs, 1920) composed by Swiss conductor Ernest Ansermet (1883-1969) as to the Quatre melodies sur des textes de Ramuz (Four Melodies on Ramuz' texts, 1934) by Swiss composer Jean Binet (1893-1960).
Sergio Belluz