Embassy of Switzerland in Egypt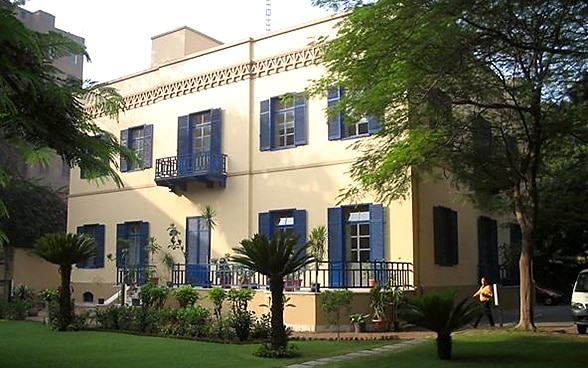 Embassy operations during the continuing COVID-19 situation
Consular Section
In order to be in line with the measures taken by the government of the Arab Republic of Egypt respecting the "physical distance" and the "stay at home" injunctions, operations demanding personal presence at the Embassy consular counters will be available on appointment only. Inquiries and appointment requests can be submitted via e-mail to cairo@eda.admin.ch.
Visa Section
Due to the current situation, the Swiss government has decided to stop the issuance of Schengen visa until further notice. Therefore, the visa section will remain closed for the issuance of C type Schengen visa for the time being and will resume its operations in coordination with the other Schengen member states.
Applications for national visas for Switzerland (long stay of more than 90 days) are now accepted on appointment only. Inquiries and appointment requests are to be submitted via e-mail to cairo.visa@eda.admin.ch.
General information on current entry restrictions to Switzerland and on the resumption of the issuance of Schengen visa can be found on the webpage of the State Secretary of Migration of Switzerland.
Please stay in touch and consult our embassy webpage, Facebook page, and Twitter account; and follow updates on the website of the Egyptian Ministry of Health as well as the website of the Federal Office for Public Health.
Should you have any inquiries, please do not hesitate to contact us via e-mail cairo@eda.admin.ch or call the Embassy Sunday to Thursday from 9am until 3.30pm (+20 2 2575 8284 or, exceptionally, if you do not get through, at the following mobile number +20 1090424904, except public holidays). Outside of these hours, Swiss citizens can call the FDFA helpline +41 800 24-7-365 / +41 58 465 33 33 in case of an emergency. We remain here for you and stay safe.
The Team of the Embassy of Switzerland
Coronavirus: Federal government to cover costs of tests for persons without symptoms and modify quarantine rules, 27.01.2021
Communication to the Swiss citizens, 15.04.2020 (PDF, 1.5 MB, multilingual: English, French, German, Italian)
Communication to the Swiss citizens, 26.03.2020 (PDF, 535.5 kB, multilingual: English, German, French, Italian)
Communication at the Embassy entrance, 26.03.2020 (PDF, 262.9 kB, English)
Travel
Since the global COVID-19 outbreak flights to and from Egypt have been suspended as a measure to contain outbreak of the virus. In the meantime, air traffic has resumed. The Embassy of Switzerland has knowledge of several airlines offering regular flights to and from Switzerland and Europe.
For further information please contact following airlines directly:
PCR-Test
The new test-and-release strategy also applies to persons arriving in Switzerland from a country or region with a high risk of infection. On arrival, these travellers must present valid proof of a negative PCR test result that is no more than 72 hours old. They then have to quarantine for ten days; they can leave quarantine after seven days if they again test negative (antigen rapid test or PCR test).
All persons arriving by air from Egypt must be able to show a negative PCR test result before boarding the plane.
In addition, you must submit your contact details electronically in advance when you enter Switzerland. You can find the corresponding form here
Country or region with a high risk of infection
Quarantine
Information on quarantine requirement for travelers entering Switzerland can be found on this webpage.
The Federal Council appeals to self-responsibility and under certain circumstances to self-isolation and self-quarantine.
More information for travelers and returnees is available on this site.
Health checks
Information on health checks can be found on the websites of transit airports and the Swiss airports of Zurich, Geneva and Basel.
SwissCovid App
The Federal Office of Public Health in Switzerland has launched the SwissCovid App which can be downloaded and which complements conventional contact tracing in Switzerland.
Travel Admin App
The FDFA calls on all Swiss nationals travelling abroad to register on the "Travel Admin App" in order to keep up to date with the latest developments in the country of their current stay. All those who have already returned to Switzerland should delete their travel registration.
Travel Advice
As the official representation of Switzerland, the Embassy covers all matters concerning diplomatic relations between the two countries. It represents Swiss interests in the areas of political, economic, financial and legal affairs, as well as science, education and culture.