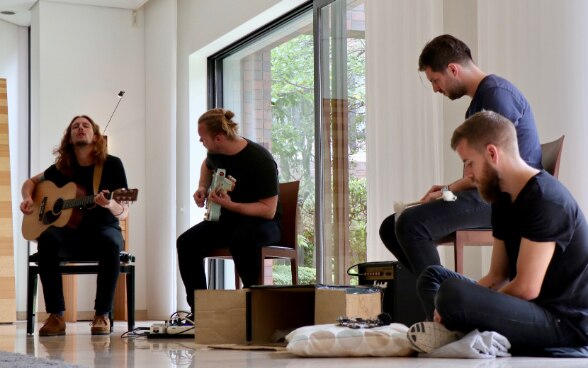 On the occasion of the first Japan tour of the Swiss rock-pop band YOKKO, a media luncheon was held at the Swiss Residence on September 27. The Residence was filled with the members of the media and music industry, along with those who took part in realizing the tour.
After Jonas Pulver, head of Culture and Public Affairs section of the Swiss Embassy made opening remarks, YOKKO, regardless of the limited instrumental back-up, gave an acoustic performance, which was very positively welcomed by the media guests. It was followed by a question-and-answer session and a luncheon.
In 2013, Yokko burst onto the music scene. The band played their first two major concerts at the legendary Gurtenfestival and the Zürich Openair.  These concerts were followed by their self-produced Top-10 debut album, "Seven Seas", a Swiss Music Award for «Best Talent», and a tour that included over 50 shows in Switzerland and abroad, which brought the band a nomination as «Best Live Act».
In 2016, the band's second album "To the Fighters. To the Boxers." encountered a great success. Forty concerts in Switzerland and abroad (Germany, Belgium, the Netherlands, and France) as well as lots of sold-out club shows were held.
Their latest new single, "Heart On Fire", which was released on January 27, 2017, brings YOKKO to the next stage.
The band name YOKKO comes from YOKO, a Japanese female name.