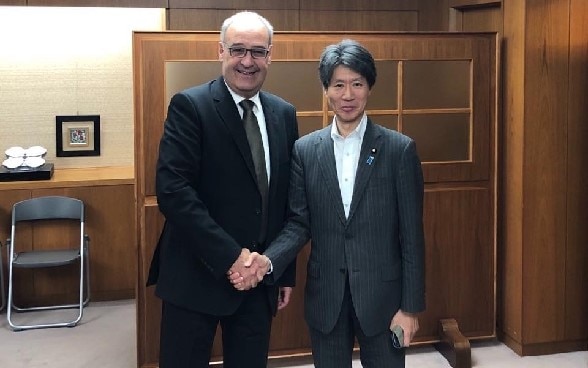 Federal Councillor Guy Parmelin is traveling to Japan and Vietnam between 7 and 14 July and is accompanied on his travels by representatives of Switzerland's business community as well as from the fields of education, research and innovation. Switzerland and Japan have worked closely in the fields of economic affairs and science for many years. The aim of the visit to Japan is ultimately to further deepen that cooperation, also in respect of the bilateral free trade and economic partnership agreement that came into force ten years ago.
With a bilateral trade volume of over CHF 12 billion, Japan is one of the most important trading partners in Asia. The extent to which the two economies are intertwined despite the geographical distance is also reflected in the level of reciprocal direct investment: Swiss companies have so far invested over CHF 14 billion in Japan, while Japanese companies are the most important Asian investors in Switzerland with over CHF 25 billion.
Japan is also one of Switzerland's main partners in scientific cooperation. Since the signing of the bilateral cooperation agreement on science and technology in 2007, relations have intensified considerably, in particular by encouraging the mobility of young researchers. Since 2014, around 40 doctoral students have been able to complete a research internship in Japan, for example. In addition, strong links have been established between research funding agencies, and three calls for joint projects have been launched since 2016. During the visit, an agreement has been signed between Switzerland Innovation and a Japanese partner, thereby strengthening the links between innovation parks.
During their visit to Japan, Federal Councillor Parmelin and his delegation met among others with Mr. Yoshihiko Isozaki, State Minister of Economy, Trade and Industry, Ms. Keiko Nagaoka, State Minister of Education, Culture, Sports, Science and Technology and Mr. Takamori Yoshikawa, Minister of Agriculture, Forestry and Fisheries. In addition, a meeting took place with representatives of the Keidanren (Japan Business Federation).