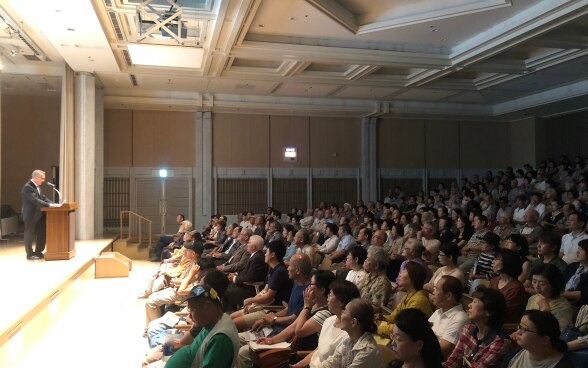 The Embassy of Switzerland in Japan - in partnership with Hiroshima City, Hiroshima Prefecture, the International Committee of the Red Cross, the Japan Red Cross Society, Hiroshima Prefectural Medical Association and Lombard Odier Trust Limited - held Japanese premieres of the documentary film "Marcel Junod, Warrior without Weapons" on September 12 at Tokyo Midtown and September 15 at the Hiroshima Peace Memorial Museum.
"Marcel Junod, Warrior without Weapons" depicts the life of Dr. Marcel Junod, Head of Delegation in Tokyo for the ICRC, who arrived in the devastated city of Hiroshima with 15 tons of medical supplies just one month after the atomic bombing. Archive images are put into perspective with contemporary issues in humanitarian action.
The projections were preceded by speeches from Ambassador Jean-François Paroz, Mr. Benoît Junod, the son of Marcel Junod, film director Mr. Romain Guélat and scriptwriter Mr. Jean-François Berger. In Tokyo, Ms. Seema Bhayat, Representative Director of Lombard Odier Japan also gave an address, while in Hiroshima the projection was followed by a talk by an atom bomb survivor, Mr. Sakashi Aoki. The Tokyo projection was attended by 70 guests while the screening in Hiroshima attracted more than 300 people.
In the city of Hiroshima, Ambassador Paroz also paid an official visit to Mayor Kazumi Matsui.
The event constituted the 11th station of the Grand Tour of Switzerland in Japan, a series of activities on the road to the Olympic and Paralympic Games taking place at various locations in Japan with a special link to Switzerland.
The Grand Tour of Switzerland in Japan is part of Doors to Switzerland, a communication campaign with innovation, discovery and inclusiveness at its core. As we celebrate this year the 100th anniversary of the International Federation of Red Cross and Red Crescent Societies, and the 70th anniversary of the Geneva conventions, the Embassy wishes to put a special emphasis on Switzerland and Japan's humanitarian tradition and cooperation.