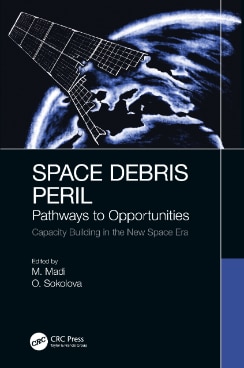 On the occasion of the launch of the book "Space Debris Peril: Pathways to Opportunities", an event featuring Swiss and Japanese contributors to the publication was held at the Residence of the Swiss Ambassador on November 25, 2020. The hybrid event connected the Swiss speaker online with a small group of Japanese guests and was jointly organized by the book's editors Dr. Matteo Madi (Sirin Orbital Systems AG) and Dr. Olga Sokolova (Sirin Orbital Systems AG/Paul Scherrer Institute PSI) from Switzerland and the Science & Technology Office Tokyo. In order to ensure the safety of the limited number of participants, the Embassy of Switzerland implemented appropriate safety measures which are in line with the Japanese government's recommendations. 
The event was opened by greetings from the Ambassador of Switzerland to Japan, Dr. Andreas Baum, and a video message from Dr. Renato Krpoun, Head of the Swiss Space Office (SSO). Introductory remarks were followed by presentations from contributors to the book. Dr. Sokolova joined the event online, while Prof. Shinichi Nakasuka (The University of Tokyo) and Prof. Shinichi Kimura (Tokyo University of Science) spoke in front of a strictly limited audience including the President of the Japan Aerospace Exploration Agency JAXA, President of the Tokyo University of Science (also acting as Science and Technology Advisor to the Minister for Foreign Affairs), as well as researchers, representatives from start-ups and government officials. 
Space debris is considered an emerging threat requiring to be tackled through international collaboration. Switzerland and Japan are advanced countries in raising awareness on this issue. The importance of collaboration among the two countries was highlighted at the event. 
"Space Debris Peril: Pathways to Opportunities" was published on November 17, 2020. With contributions from authors at world-renowned universities, private or public entities, and research institutes active in the field of space debris mitigation, space policy and law, risk and resilience, liability and insurance, the book, accessible not only to experts but also to the general public, illustrates a wide range of problems related to this topic, including technical, political, legal and socio-economic aspects, and identifies approaches for solutions.