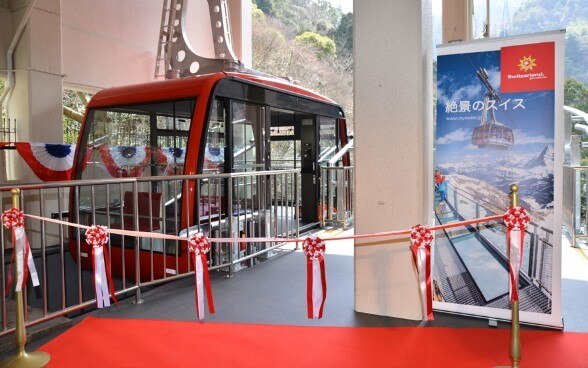 After a planned renovation of the station building, on March 20, 2020 the Rokko-Arima Ropeway has reopened and inaugurated two new third-generation gondolas manufactured by CWA Constructions of Switzerland. The fact that a Swiss company with a long-standing tradition and expertise in gondola building was chosen for renovating the aerial lift of the important recreational destination in Kobe and in the Kansai area in general is yet another token of the close and friendly relations between Switzerland and Japan that have lasted for over 150 years.
The Rokko Alpine Botanical Garden has a meaningful connection with Switzerland. Namely, it has been twinned with the Alpengarten Schynige Platte in the Bernese Oberland region of Switzerland for the past ten years. The alliance, which was signed in the Swiss Alps on a sunny June 28, 2008, remains the first and only agreement of its kind between the two countries. Due to the ropeway's special relationship with Switzerland, the opening ceremony should have marked the 15th station of the Grand Tour of Switzerland in Japan. However, the current restrictions on business trips prevented Ambassador Jean-François Paroz from attending. To represent the Embassy of Switzerland in Japan, the Honorary Consul-General of Switzerland, Mr. Dieter Sommerhalder, who lives nearby, has thus accepted the invitation of the Mayor of Kobe, Mr. Kizo Hisamoto. Next to Mr. Hisamoto and Mr. Sommerhalder, the ceremony was also attended by Mr. Isamu Tatsuno (Montbell founder and CEO), Mr. Hironobu Kanai (President of Arima Hot Spring Tourism Association), and Mr. Satoshi Torii (Director of Kobe Housing & Urban Development Corporation). Given the present situation with regards to COVID-19, the safety of all attendees was of utmost importance to the organizers who carefully held the ceremony outdoors.
With the brand-new gondolas that allow for a spectacular 360° view in operation, the ropeway is now ready to celebrate its 50th anniversary in July. While traveling is currently possible only to a limited extent, the magnificent impressions of the 12-minute experience above the trees can hopefully inspire many people to visit the famous hot spring region once the situation has settled.