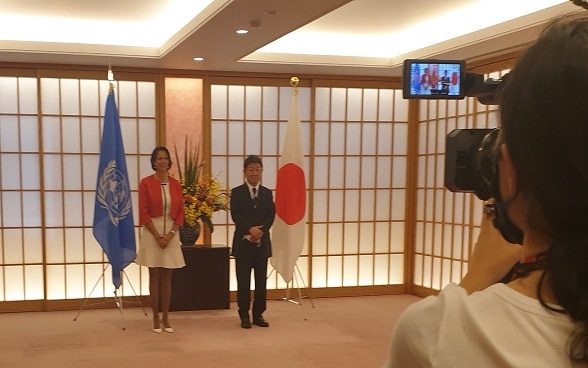 From May 26 to 29, United Nations Special Envoy on Myanmar Christine Schraner Burgener travelled to Tokyo to discuss the current situation in Myanmar. 
During her visit, Special Envoy Schraner Burgener met with Japanese Foreign Minister Toshimitsu Motegi, Japanese Special Envoy to Myanmar, Yohei Sasakawa, members of parliament, other high-ranking officials, as well as religious leaders. She further held a press briefing at the Foreign Correspondents Club of Japan (FCCJ).
Highlighting Japan's importance for her mission, Ms. Schraner Burgener exchanged views on how to bring about a peaceful resolution to Myanmar's violent conflict, while stressing the importance of inclusive, locally-owned dialogue.
The Embassy of Switzerland in Japan acted as the host for Special Envoy Schraner Burgener's visit to Tokyo as part of the Swiss engagement for the promotion of conflict resolution and peacebuilding around the globe.