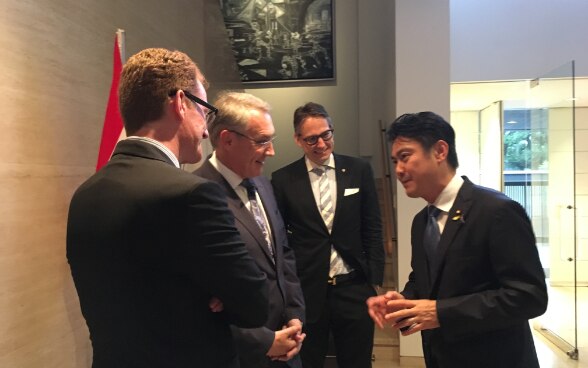 The University of Zurich, the Swiss Chamber of Commerce and Industry in Japan (SCCIJ), the Swiss Chambers' Arbitration Institution, the Swiss Arbitration Association and the Embassy of Switzerland in Japan came together to organize a conference on Swiss commercial arbitration for Japanese Corporations at the Swiss Ambassador's Residence.
Mr. Michael Mroczek, attorney at law and President of the SCCIJ, moderated the conference which concluded with a lively Q&A session between the speakers and the audience.
Speakers from Switzerland presented the Swiss system and explained the international success of the so-called Swiss Rules while exchanging views with their Japanese counterparts.
After a welcome address by Ambassador Jean-François Paroz, Vice-Minister Takashi Yamashita from the Ministry of Justice gave the keynote speech and pointed out the relevance of the Swiss arbitration, notably for the forthcoming 2020 Tokyo Olympics.
Dr. Ulrich Haas from the University of Zurich (UZH) stressed that the Swiss system has long been successful in bringing settlements, before giving the floor to Dr. Felix Dasser, also from the UZH, who presented the current reform of the Swiss Arbitration Law. 
Ms. Caroline Ming then introduced the Swiss Arbitration Association, an organization independent from the government and law firms. She also presented the newly published Japanese translation of the Swiss Rules.
The conference was well attended by representatives of Japanese and foreign law firms, financial and academic institutions, as well as officials from the Ministry of Justice. The vice rector of UZH, Prof. Christian Schwarzenegger and Dr. Yulia Gusynina Paroz, the wife of the Swiss Ambassador, were among the distinguished guests.
Earlier on that day, Dr. Haas and Dr. Stephan Netzle of UZH had given a presentation to the SCCIJ members on "The FIFA scandal and how it affected the Sports World". These events were the finale of a two-day workshop on "Sports Law and Arbitration" organized by the UZH, Rikkyo University and the Japan Sports Arbitration Agency.