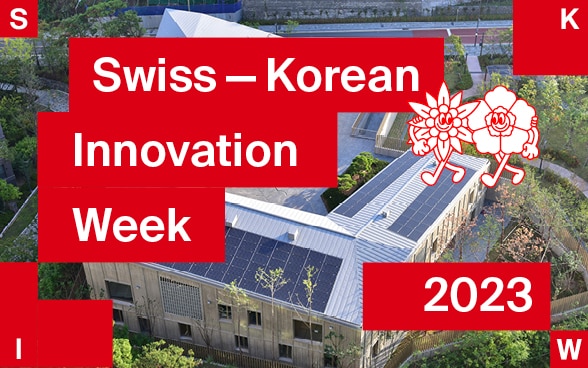 The Embassy of Switzerland in the Republic of Korea is hosting the sixth edition of the Swiss-Korean Innovation Week from May 11 to 23, 2023. The event, which also marks the 60th anniversary of diplomatic relations between Switzerland and the Republic of Korea, will focus on how countries can build an environment for innovation to bloom.
To celebrate the 60th anniversary year of Swiss-Korean friendship, Guy Parmelin, Swiss Federal Councillor for Economic Affairs, Education and Research, will attend the Swiss-Korean Innovation Week 2023.

The program of events includes an open dialogue on quantum technology, an exhibition on metaverse, seminars and workshops on AI and ESG, and pitching events – most of which are open to the public can be found at the Swiss-Korean Innovation Week website swissinnovation.kr.

As a follow-up of the visit by South Korean President Yoon Seok-yeol at the Swiss Federal Institute of Technology in Zurich in January this year, an open dialogue 'Preparing for the Age of Quantum' with leading researchers from Korea and abroad will be held. The event invites internationally renowned experts in the field.

On May 15, a festive pitching-event with a focus on innovation will take place at the Swiss Hanok – the Embassy premises. The event is open to the public upon registration. It will feature original thought-provoking ideas and stories presented by personalities from Korea and abroad using the Pechakucha concise presentation format in a festive atmosphere.

The exhibition 'Travel Across Boundaries', which will be launched on May 11 at Dongdaemun Design Plaza, will showcase the use of metaverse in research for the benefit of society. At the exhibition, visitors can observe wildlife in the Korean Demilitarized Zone (DMZ) analyzed using artificial intelligence technology. In the metaverse, visitors can also take a virtual trip to Zermatt, Switzerland.

Under the slogan "Where Innovation Blooms," the Swiss Embassy in Seoul will organize a variety of activities that reflect the diversity of Swiss-Korean relations and reinforce the excellent long-standing relationship between the two countries throughout 2023. Information on the anniversary events can be found on the official homepage of the Swiss-Korean 60th anniversary year: www.swisskorea60.org