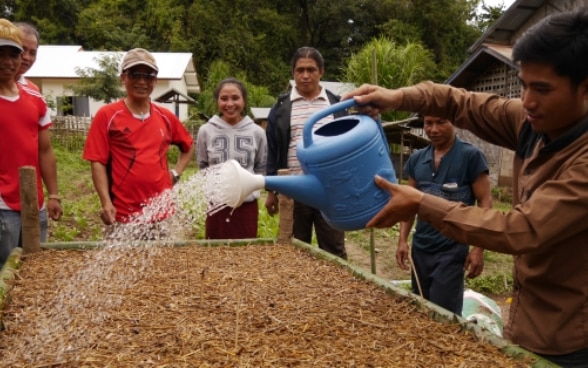 The ENUFF project will improve access to nutritious and diversified food; develop and disseminate proper knowledge about nutrition, health and sanitation practices; and support the Government of Lao PDR to ensure the project benefits disadvantaged families and children in upland farming communities.
The National Nutrition Center of the Ministry of Health will host the project with the technical support of SNV Netherlands Development Organisation, and Agrisud International. The project activities will be implemented in the Northern upland provinces of Oudomxay and Houaphanh.  
The ENUFF project objectives will contribute to the implementation of the national Multi-sectoral Food and Nutrition Security Action Plan, the 8th National Social Economic Development Plan and reaching the nutrition goals to end hunger-Sustainable Development Goal #2-as agreed in the UN's 2030 Agenda for Sustainable Development which has significant implications on Human Asset Index contributing to the government's aspiration to graduate from its Least Developed Country status.
Worldwide, an estimated five to six million children die each year from infections and diseases caused by malnutrition. Nearly one-third of the children in the developing countries are underweight or have had their growth stunted.  In Lao PDR, stunting prevalence is amongst the highest in the world, affecting an estimated 25.6% of children under five years of age, and exceeding 60% among children from upland ethnic communities.
Statistically, in Oudomxay and Houaphanh, stunting, underweight, wasting, "under 5 mortality rate" and "infant mortality rate" are all higher than the national average and children of malnourished mothers often suffer irreversible physical and cognitive damages.
Switzerland and Lao PDR believe that supporting the ENUFF project will provide opportunities for farming families and their children to benefit from optimal breast feeding practices, have access to nutritious food along with appropriate childcare practices provided by mothers and caregivers. Therefore, the project will specifically emphasize on gender equality and women's empowerment with the overall goal of addressing the nutritional issues that both provinces are currently facing.