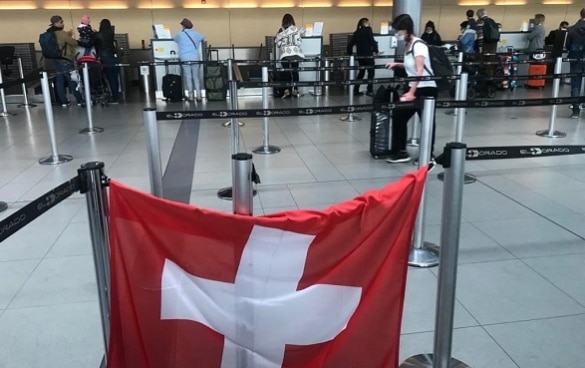 Dear compatriots,
Please find below a new update from the Embassy of Switzerland in Bangkok .
If you are a Swiss citizen residing in Lao PDR or in the region, please relay this newsletter to any Swiss citizens currently traveling in the region that you might know of.
A) Messages for the Swiss currently traveling in the region
1) The Embassy of Switzerland in Thailand reiterates its call to all Swiss citizens who are currently traveling in Lao PDR or in the region – and who live in Switzerland – to return to Switzerland immediately. There is a great uncertainty about how the situation will evolve in the next few days, both for the flights and the measures taken in the country by the Thai government to fight against the spread of the virus. This call does not apply to Swiss citizens living in Lao PDR.
2) Commercial flights: more and more flights are canceled every day. A list of identified remaining international flights operating from Lao PDR is available on our website and is frequently updated.
3) In any case: please make your way to  the international airport still open as soon as possible to be able to take advantage of any flying out opportunities.
For Thailand: Bangkok (a list of hotels near the airport is on our website) and Phuket
For Cambodia: Phnom Penh
For Lao PDR: Vientiane
For Myanmar: Yangon
For Malaysia: Kuala Lumpur
4) Travel Admin App / Itineris: If not done yet, please register on the Swiss "Travel Admin App (https://www.itineris.eda.admin.ch)" (also known as "Itineris") so that we can contact you if needed. Also be aware that the date of your trips should be up-to-date so that our Embassy can easily know who is still in the country or not.
5) Info on flights transiting in Thailand: since yesterday evening 24.03 and for 7 days only (until 31.3 included), it will be possible to transit through an international airport in Thailand with a fit-to-fly health certificate, without COVID test. This applies to those who have "connecting flights" in Thailand en route to a third country. The certificate has to be presented at the check-in counter in the departing country for flight bound for Thailand. Transit imply that the travelers remain in the transit area the entire time, but less than 24 hours, before departing from Thailand to Switzerland or any third country. More information on our website.
Important: Travelers who need to step out of the transit area for new boarding pass will need to present, when checking in for a flight bound for Thailand, the same documents as those who want to enter the country:
less than 3-day old health certificate certifying that the traveler is free of Covid-19;
health insurance which cover Covid-19 treatment in Thailand and with the coverage of no less than USD 100,000.
B) Message for the Swiss community residing in Lao PDR and in the region
1) Traveling in Thailand: the announcement by Thai Prime Minister on 24 March to invoke the Emergency Decree starting from 26 March for a period of one month implies more stringent measures to be taken to contain the spread of the virus. The exact details of these measures are not known yet but may include curfew and restriction of movement both domestically and transboundary.
-> We strongly advise you to stay at your place of residence or to return to it as soon as possible.
2) Operations of the Swiss Embassy: The staff of the Swiss Embassy is still operating and is fully dedicated to the COVID-19 situation, in order to advise and assist Swiss citizens in the best possible way, with its resources available. Not urgent consular requests will be dealt with at a later stage. Thank you for your understanding.
We also invite you to consult two of my videos addressed to the Swiss citizens traveling in Thailand as well as to the Swiss community residing in Thailand. They are available on Facebook and our website.
For further questions please contact: bangkok.cc@eda.admin.ch or +66 2 674 69 00. Or the Helpline FDFA: +41 800 24-7-365 or +41 58 465 33 33
Don't forget to consult regularly our Facebook and website as well.
Stay safe and healthy and with my best greetings,
Helene Budliger Artieda
Swiss Ambassador to Cambodia, Lao PDR and Thailand