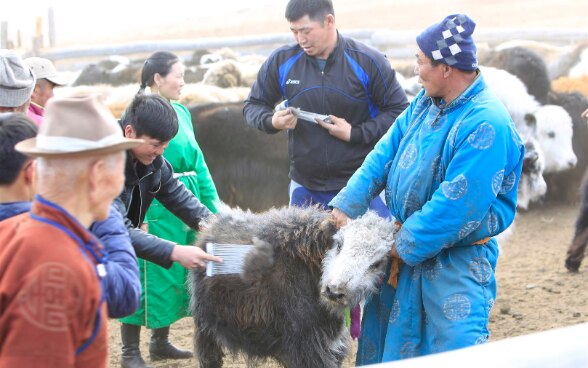 While yak and baby camel wool can compete equally with goat cashmere in terms of quality, these fibres are also known to be eco-friendly as yaks and camels cause less harm to rangeland than goats.
Domestic processing companies such as Bayalag-Ulzii LLC, Jinst Murun LLC and Uujin LLC have worked to brand their yak and camel wool products, and have sourced raw materials from Pasture-User Groups (PUGs) of herders that have agreed to use their rangeland in a sustainable manner. To this end, they established rangeland-use agreements with local governments.
The UK-based TENGRI brand also sources yak wool from PUGs, and it said that all Tengri Noble Yarns® are made with 100 percent natural, undyed Khangai yak fibre from a rare breed found only in the remote Khangai mountains of western Mongolia.
Seeing this trend as an opportunity to increase their incomes, Mongolian yak and camel herders have started supplying good-quality yak and camel wool that is prepared by combing instead of shearing. They are also trained to sort fibres by colour and diameter.
Bodio CEO Ulziibodijav said: "This good practice among herders definitely helps our company to produce good-quality products. Because the raw material quality has improved, we're able to save on production costs. In other words, the combed raw materials supplied by the cooperatives are free of dust, making our factory processing much easier."
SDC's Green Gold Project has launched an electronic database of registered raw materials sourced from PUGs. This is not a new initiative; rather, it is the reintroduction of the traditional system of sorting and labelling raw materials among cooperatives and herders that collapsed during Mongolia's transition to a market economy.
The PUGs and cooperatives are now recording the origin, amount and quality of the raw materials, which serve as a basis for a quality assurance and traceability system.
This means that processing companies will be able to trace the origin of the raw materials they buy. If the quality does not meet standard requirements, the processors can determine which herder from which soum and aimag supplied the fibre and demand that measures be taken to improve quality.
It should also encourage processors to improve their marketing strategies to enable them to convince buyers that their supply chain is sustainable, transparent and reliable, and that the raw materials are sourced from an environmentally friendly community.
The PUGs and herders' cooperatives, contracted with local producers to supply raw materials, aim to supply as much as 90 tonnes of yak wool and 236 tonnes of camel wool - an increase of 50 percent and 70 percent respectively over previous years.
Jambaldorj, Executive Director of the Arkhangai federation of PUGs, has played a significant role this year in training yak herders in nearly all soums that have large yak numbers. "For the first time, we have involved yak herders from all soums in Mongolia in yak combing training," he said.
"There were hundreds of herders who didn't comb their yaks, thereby losing their luxurious fibres in the harsh spring wind. Now these herders are able to diversify their income by supplying combed yak wool to their respective cooperatives. This will lead to an increased yak wool supply to processors and increased profits for both herders and processors."
This year, eight domestic processors have agreed to pay MNT 8000-10,000 for a kilogram of yak wool and combed baby camel wool, and they have already issued advance payments to herders through the National Federation of PUGs (NFPUGs).
To date, the project, in cooperation with the NFPUGs, has trained more than 2100 herders from 61 soums in 10 aimags on yak and camel wool combing techniques.