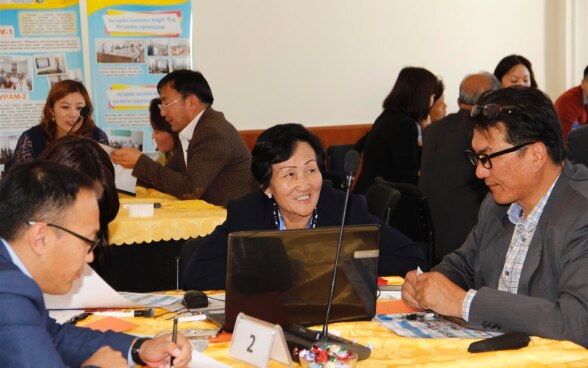 The conference was hosted by Mongolia's National Academy of Governance (NAOG) from 19-20 September. Dr. Zulfikar Sarkhad, NAOG Rector highlighted the important role academia played in disseminating research, knowledge and experiences in social accountability to stakeholders in his opening speech.
The conference was co-organised the Local Governance Initiative (LOGIN) - a South and East Asia multi-stakeholder learning network with members in 13 countries including Mongolia that is focused on reforming agendas favouring greater decentralisation and the strengthened role of local governments.
The LOGIN provided opportunities for participants to consolidate the lessons learned and challenges faced in social accountability practices and processes in the two regions.
LOGIN has been following Mongolia's progressive legislation and good governance initiatives, such as the laws on Glass Account and public hearings that ensure civic engagement and people's participation.
Participants from India, Bhutan, Bangladesh, Cambodia and Myanmar were particularly interested in learning about the implementation of these legislations and how they were being translated into action.
"We leverage the event to enable it to be international experience-sharing, which is the core work of LOGIN across countries and peer institutions," said Preeta Lall, LOGIN secretariat Team Leader.
The Indian delegation highlighted their experiences in making difficult-to-understand information on budgets more accessible and comprehensible for citizens to enable them to determine on what money had been spent and if that expenditure matched their priorities. They said the Indian government had made efforts to simplify such information so citizens were more empowered to influence government spending.
The delegation from Bhutan spoke of the government's efforts to involve citizens in the day-to-day monitoring and improvement of services using legislation to leverage and create more significant roles for citizens in dealing with administrations.
Melam Zangpo, Senior Program Officer with Bhutan's Ministry of Home Affairs, said institutionalisation was a lengthy process, with time needed to bring everyone on board, including ministries and other stakeholders, and to raise awareness of the potential benefits of social accountability. "Then we can work on bringing those changes into local government laws and regulations."
He said he would take back with him Mongolia's experiences in media and civil society cooperation, and the integration of the social accountability principles in school management and school boards and among parents in order to improve the quality of education in Bhutan. "We learned that Mongolian parents have started playing roles in monitoring the quality of education in some parts of the country." 
Representatives from Cambodia and Myanmar cited examples of the mobilisation of citizens to demand better quality and a wider range of services, and their self-organisation in assessing service quality using different social accountability methods.
The Mainstreaming Social Accountability in Mongolia (MASAM) Project, jointly funded by the Swiss Agency for Development and Cooperation and the World Bank, gave local partner organisations the opportunity to share their experiences with the piloting of social accountability initiatives in public institutions.
The MASAM Project has supported a range of small pilot actions and interventions led by local and national NGOs in aimags and in Ulaanbaatar. However, the project is now placing emphasis on local ownership to boost empowerment in engaging and communicating with governments.
Chhor Jan Sophal from Cambodia said he appreciated the project's approaches in building the capacity of local leaders, which ensured sustainability after the completion of the project.
"It's a great opportunity for MASAM beneficiary organisations to be exposed to the experiences of other countries and to learn from those experiences in order to improve their own interventions," said Marcelo Rozo, World Bank's MASAM Project Team Leader. "And it's also a good opportunity to showcase internationally what we have been doing in Mongolia with different projects on social accountability, and to show the new approaches and methods we are testing in Mongolia that could be taken up by stakeholders in other countries."
SDC supports comprehensive capacity building for national and local authorities, as well as for civil society organisations and citizens. This is backed up with policy and implementation support at national and local levels. "These initiatives have demonstrated some good practices which can be upscaled," said Gabriella Spirli, SDC in Mongolia Director of Cooperation. "SDC's support to this conference is that it can showcase the interim results emerging from the joint investments of the state, citizens, civil society and the donor community in initiatives implemented by projects such as MASAM."
Ms Lall said the main outcome of the conference was the recognition that the most enabling factor for successful social accountability interventions was the leveraging of existing legislation and policies.
"Many of our member countries and institutions are lacking experience in upscaling these pilots in social accountability at the national level," she said. "We still don't have instances of pilots that have been upscaled to regional level and national levels. As civil society organisations, we are piloting a few different interventions and initiatives in a few places or provinces. But the challenge for us is how to be better prepared for upscaling and institutionalisation."
She added "herein is the role of the academia in enabling us to assume a position of influence. They are constantly studying government and its policies and they also look at civil society. They are in a position to advise us, as well as NGOs, donor communities and citizens' groups, of what we will need to do differently in order to upscale these initiatives and good practices."