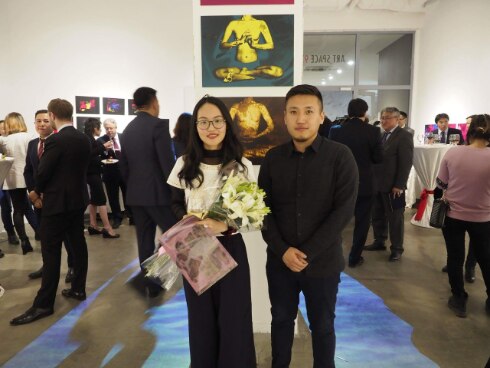 In 2018, the competition attracted 22 Mongolian artists, including young artist and photographer Namuun Batbileg, who won the award. She was awarded a three-months scholarship at the Geneva School of Art and Design in Switzerland.
Namuun Batbileg graduated from Mongolian Fine Art Institute, Fine arts class as an artist. In 2016, she held her first exhibition called "OiR-Rio" during the Rio Olympic Games. Her second solo exhibition consisted of photographs taken during the dance performance called "Beyond limits" in the National Academic Theatre of Opera and Ballet. Also, she has promoted Mongolia with her exhibition about her homeland by participating in the Asian festival in Sofia, Bulgaria.
During her stay in Geneva, she interacted with a very multinational group of students and professors, she held an exhibition, which was attended by the Mongolian President Battulga Khaltmaa during a working visit in Geneva, and she generously donated some of her works to Mongolian Embassy in Switzerland for further exhibitions.
Her gaze at reality, her approach to human figures in their wider natural context, her comprehension of forms and colors have reached new heights. More than ever she looks beyond, searching for different layers of meaning, hidden or deceptively apparent. Her camera acts as a paint brush, the line is blurred between the figurative and the conceptual, the human form lapses into spirituality. Namuun sails away from the shores of the quickly sighted, the immediate, away from the defined contours of the apparent.
Namuun Batbileg defines her concept as Emotional Balance. Indeed an approach based on emotions left to flourish, be they uplifting or anxious, before being funneled into a new sense for a deeper meaning. And as feelings stirred by the vision of her creations linger on, there remains an almost tangible sense of a true addition to Mongolian-Swiss relations.