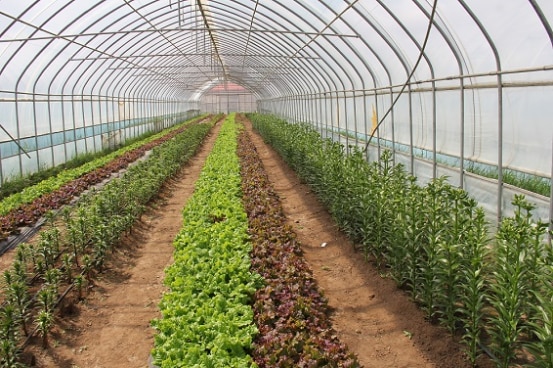 But can we trust the different labels on food packaging? Can we be sure that producers' claims that they are selling "healthy" meat, milk, cheese, and vegetables are true? We think digital tools can help us be sure, as digital tools can introduce a traceability system. We would like to share our experience and lessons learned from introducing a traceability system with support from Swiss taxpayers.
With more digital tools, applications, and mobile phones being used by the broader public, farmers and herders are now providing data for the traceability systems introduced under the Green Gold Animal Health and Inclusive Sustainable Vegetable Production and Marketing projects of the Swiss Agency for Development Cooperation. This is our success story, but it took several years to come to this point.
Veterinarians were provided with training and technology to record services provided to herders, and ear tagging of livestock is carried out for animals intended for market. Herders now need to plan in advance and ensure that livestock for the market is registered with a local veterinarian, who ensures that no unnecessary antibiotics are prescribed and that mandatory vaccines are administered 21-45 days before transfer. Information is fed into the traceability system in real-time and meat producers and the Ministry of Agriculture and Light Industry will have real-time data on herders' supply plans to inform relevant agencies and market suppliers. During transportation, ear tag readers are used at each major checkpoint and meat processing factories to provide animals with a veterinary certificate, ensuring that no meat with antibiotics or vaccine residue is supplied to the market. Processing companies ensure that the same ear tag is used to include processing plant traceability. Later, this QR-coded processed meat will reach supermarkets, where consumers can find out exactly where and when their meat comes from and which factory processed it. Now everyone can check how safe their food is and verify its quality with the pasture data provided
Of course, the process is still not "perfect. There is still room for improvement, but we think animals from healthy pastures produce higher-quality products than those that come from places with degraded pastures. Today, we are proud to share that the system is fully operational under the Ministry of Food, Agriculture and Light Industry and the General Authority for Veterinary Services. Of course, although we have a fully operational and functioning system, this system has to be further developed over time. This work is now in the hands of the ministry.
Similar traceability has been introduced for vegetable farmers, with all fieldwork during vegetable production being entered into the system. Special attention is given to ensuring that the GAP certification process is streamlined for these records, enabling farmers to certify that their vegetables comply with Mongolia's food security regulations. Only farmers with GAP knowledge and certification are allowed to supply their vegetables through this system, and only farmers in the system are entitled to receive incentives from the ministry. We would like to congratulate the Mongolian government on successfully managing the upscaling process, and we hope an operational food safety system will be in place in the near future.  
More information please visit Green Gold Mongolia Federation.