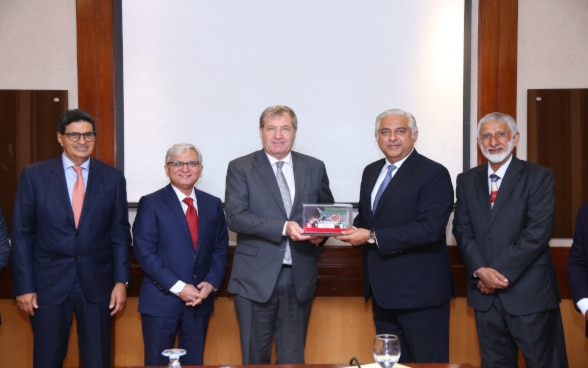 The Ambassador visited the Aga Khan University (AKU), where he met Dr. Sulaiman Shahabuddin, President and Vice-Chancellor of the AKU and his team including Dr. Shahid Shafi, CEO of the Aga Khan University Hospitals in Pakistan. The Ambassador was briefed about the evolution of the AKU over the period of time and its contribution towards the people of Pakistan. An informative round of the Centre for Innovation in Medical Education at the AKU was also organized during the visit.  
During his visit to the SGS Pakistan, a local subsidiary of a Swiss company, Mr. Abdul Razzak Lakhani, Managing Director, SGS Pakistan, informed the Ambassador about the unique quality testing services rendered by them in the industrial and services sectors of Pakistan.

 At his meeting at the Overseas Investors Chamber of Commerce and Industry (OICCI), the Ambassador was apprised of the recent developments in the foreign investment climate of Pakistan by Mr. Ghias Uddin Khan, President OICCI and Chief Executive Officer Engro Corporation Limited and Mr. M. Abdul Aleem, CE/Secretary General OICCI.
On the side-lines, the Ambassador also visited the Wazir Mansion, the birthplace of the founder of Pakistan, Mr. Muhammad Ali Jinnah.