Bilateral Framework Agreement with Romania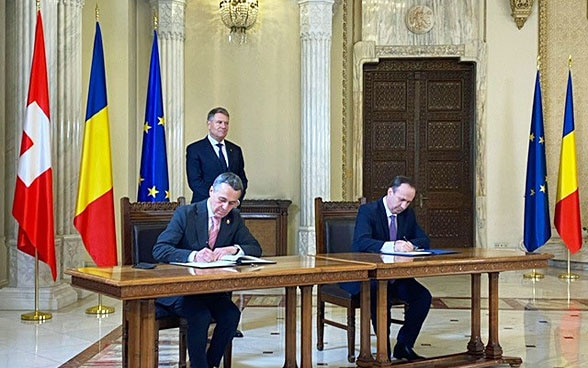 Switzerland signed a bilateral framework agreement with Romania on December 12, 2022, during the official visit of the President of the Confederation Ignazio Cassis to Bucharest. This agreement defines the objectives of the second contribution to Romania, its scope, the form and use of the aid, and the main provisions for its implementation.
The Swiss-Romanian cooperation program takes into account Romania's current needs and will provide opportunities for capacity building and transfer of Swiss expertise in areas of common interest. With a total Swiss support of CHF 221.5 million, the program will complement Romanian efforts in the areas of economic growth, improvement of public security, energy efficiency, strengthening of social systems and engagement of civil society.

The specific annex to Romania contained in the framework agreement sets out the thematic and geographic allocations of the contribution and the specific rules agreed between Switzerland and Romania, as well as the allocation of responsibilities and tasks to the entities involved in the implementation of the Swiss-Romanian cooperation program.