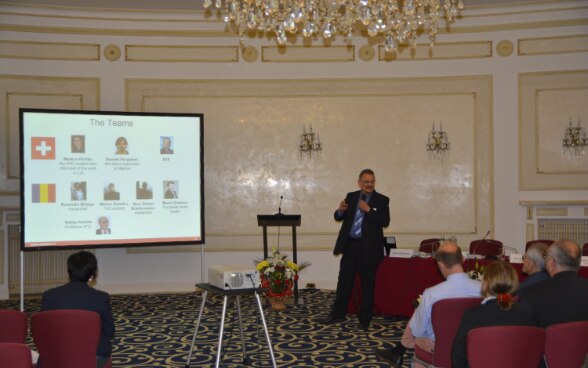 The Swiss National Science Foundation together with the Romanian Ministry of National Education Scientific Research have organised the closing event of the Romanian Swiss Research Programme on 26 May 2016. On this occasion the Romanian and Swiss researchers have presented some of the results of their joint research projects and the lessons learnt from their cooperation. During a panel discussion bringing together Romanian and Swiss academics the future challenges faced by Romanian researchers in the current international context were analysed and possible ways on how to address them presented.
In his welcome address the Ambassador of Switzerland stated "Through the Thematic fund Research we have opened a window to Switzerland and the world for Romanian researchers and strengthened the bilateral ties between research institutions. Besides funding a large number of senior researchers and technicians, our fund has also supported young doctoral students in getting international exposure and staying in Romania as well. The fact that this programme has been implemented without any problem or difficulties, demonstrates the good quality of the partnership as well as the professionalism of the parties involved in the programme implementation."
The Romanian-Swiss Research Programme was funded with 11 million CHF and implemented between 2011 and 2016. It is part of the Swiss Contribution to the enlarged European Union and aims at strengthening both the Swiss and the Romanian research capacity.