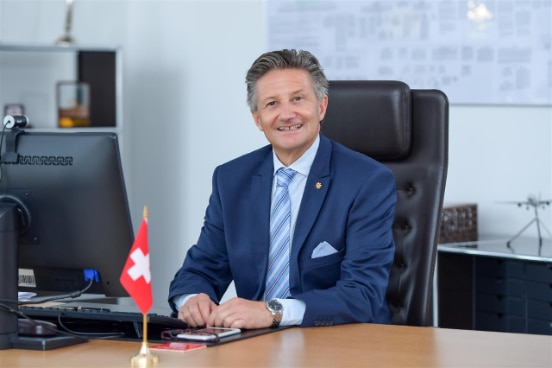 Dear visitors and dear fellow Swiss citizens,
Marhaba and welcome on the website of the Embassy of Switzerland to the United Arab Emirates and Bahrain and of the Consulate General of Switzerland in Dubai.
After four years as Ambassador in Morocco, and before that, an eventful period in Milan, during which I dedicated myself amongst other things to the Expo 2015, as well as several postings with a focus on financial and economic issues in New Delhi, Moscow and Berne, I consider my current function to be a sensible continuation of my previous experiences.
Here in Abu Dhabi, I intend to further develop our excellent and varied relationships with the United Arab Emirates and Bahrain. In the previous years, we concluded partnerships in areas, such as education, development cooperation, culture and energy. We were thus able to extend our collaborations beyond the political and economic sectors, which have long been a testament to the profound ties of friendship that mark our relations with the United Arab Emirates and Bahrain. I will continue to seize such opportunities and keep on exploring untrodden paths.  
Of course, at the centre of all our activities there is you, dear fellow Swiss citizens. Every one of you contributes daily to the eminent reputation from which our country benefits in this region. Please do not hesitate to contact us if you have suggestions on how we can improve our website or our service offerings. The Embassy and the Consulate General will be happy to answer your questions and to provide more information.
In this sense, I look forward to spending the next, eventful years with you!
Massimo Baggi
Ambassador of Switzerland to the United Arab Emirates and Bahrain