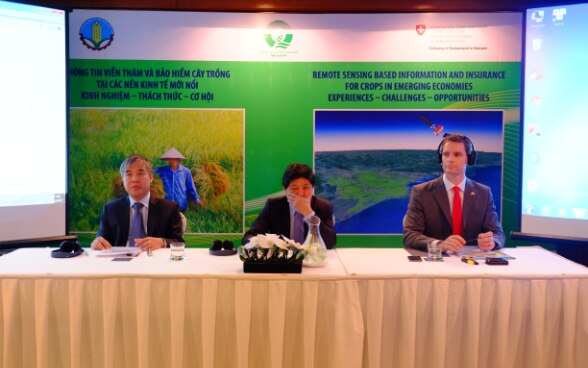 Monitoring of rice production in Viet Nam through satellites brings more accuracy and timeliness, according to the makers and users of RIICE technology; it is also meant to be more cost-effective. During a workshop held today in Ha Noi co-chaired by Ministry of Agriculture and Rural Development (MARD) and the Embassy of Switzerland, partners showcased the findings of using technology to assess rice production and identify rice losses. The National Institute of Agricultural Planning and Projection (NIAPP) had been investigating the technology use under the RIICE project (Remote sensing based Information and Insurance for Crops in Emerging Economies").
After a pilot phase between 2012 and April 2015, the main phase of the project was implemented in 10 selected major rice growing provinces in the Red River Dealta and Mekong River Delta with funding from the Swiss Agency for Development and Cooperation (SDC) and technical contributions of other international partners. The main output of RIICE includes rice area mapping and yield estimation.
"Remote sensing technology can help the Ministry of Agriculture and Rural Development and other stakeholders, including provincial departments of agriculture and rural development to get quick and accurate data on the rice crop cycle. This is particularly important considering the climate change for which a series of recent severe floods in our country provide fresh evidence", said Vice Minister Le Quoc Doanh, who was co-chairing the gathering of international and Vietnamese scientists, policy-makers and insurance companies in Ha Noi today.
Participants stressed the usefulness of remote sensing technology in crop insurance since it can provide accurate data on rice crop damage in a timely, unbiased and affordable manner. It would help insurance companies to overcome the prohibitively high transaction cost that is a major barrier to implementing insurance solutions aiming at smallholder farmers.
"RIICE is helping governments in the region to provide affordable insurance solutions by making remote sensing data work for the benefit of smallholder farmers. The Indian state Tamil Nadu has used RIICE for their public crop insurance programs," said Mr. Marcel Reymond, Head of Cooperation at the Swiss Embassy in Ha Noi. In Viet Nam, several insurers, including Bao Viet, also expressed their willingness to apply RIICE once their crop insurance program starts.
Technically, RIICE relies on two key components: the frequent earth observation data from the Sentinel satellite of the European Space Agency and its processing using algorithms developed by a specialized Swiss company, Sarmap, as well as the International Rice Research Institute (IRRI). "We have satellite overpass every 6 to 12 days and can clearly identify the start of the rice season in every commune. This is fed to our module to assess the yields on a commune basis with consistently high level of accuracy in the range of 90 – 92% over several past seasons", said Mr. Nguyen Quang Dung, director of NIAPP.
Recently, the German Ministry for Economic Cooperation and Development has joined the RIICE activities in Vietnam aiming to help increase the insurance up-take by smallholder farmers.
 
For more information, please contact
National Institute of Agricultural Projection and Planning, Vu Cong Lan, Project Manager, email vuconglan1306@gmail.com, mobile 0913014389, or
Embassy of Switzerland, Nguyen Hong Ninh, National Project Manager, email ninh.nguyen@eda.admin.ch, tel. 024.39346589 (ext: 803983)
News on televion and Transcript in English
News on MARD website and English translation