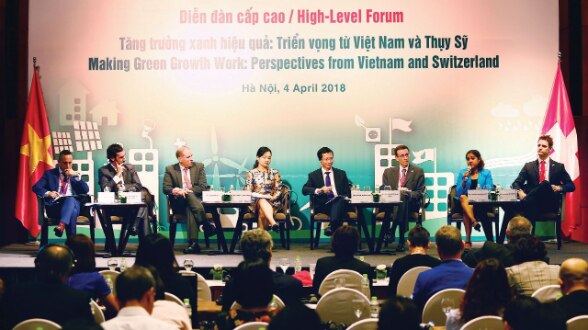 The high-level forum on green growth was held at the occasion of the official visit to Vietnam of Swiss Federal Councillor Doris Leuthard. She was in Hanoi with a delegation of business representatives for meetings with several Government ministers as well as with Prime Minister Nguyen Xuan Phuc.
"This Forum offers a great opportunity to deepen our relationship in key areas, to exchange experiences and to identify areas of common interest for future cooperation", the Federal Councillor said in her address to the participants. Switzerland has been providing development assistance to support the implementation of key reforms in Vietnam since the early 90s. Swiss companies are increasingly looking for opportunities to provide Vietnam with technology and know-how in the field of environment, transportation and energy.
Switzerland has one of the most developed economies in the world. The country has a long tradition of promoting its economy while protecting its natural resources. A regulatory framework with ambitious standards has encouraged a constant quest for innovative solutions among companies and academia alike. This unique innovation ecosystem is a major reason for Switzerland's top spot in the World Competitiveness Index and for the country's leading role in the field of environmental technology and energy efficiency.