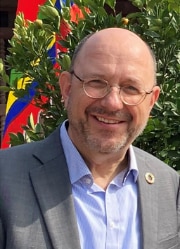 Dear Visitor,
Welcome to the website of the Embassy of Switzerland in Vietnam.
Notwithstanding the geographical distance between Switzerland and Vietnam, bilateral relations have steadily grown. Nowadays, diplomatic ties between the two countries are based on an over 50-year old friendship, and it is a privilege for me to work in Vietnam's fascinating and steadily evolving environment.
Switzerland and Vietnam established diplomatic relations in 1971. The very first Swiss Embassy in Hanoi was opened in 1973 and, since 2015, it also includes a Swiss Consulate-General in Ho Chi Minh City. The Embassy's diplomatic tasks focus on official relations with Vietnamese Authorities and encompass topics such as political and economic relations, cooperation in the context of multilateral organizations, human rights, education and research, as well as public and cultural affairs. Economic development cooperation, with an ongoing program of the State Secretariat for Economic Affairs (SECO), also remains an important field of activities of the Embassy.
The largest Swiss contributors to Vietnamese development nowadays are of course private enterprises doing business with Vietnam. Both the Swiss private sector and government are supporting Vietnam in moving towards a circular economy, a cleaner environment, better gender equality and higher working and living standards. Vietnam is among the countries that worldwide are most affected by climate change, and Switzerland is keen to contribute and exchange on the best possible solutions for a prosperous and sustainable Vietnam.
The Embassy also supports "people-to-people" connections between Swiss and Vietnamese citizens. There is a long tradition of such personal relations between our two countries, starting with Swiss-born physician Alexandre Yersin, who was awarded the title of "honorary Vietnamese citizen" and affectionately called "Ông Năm" by the Vietnamese people for his contribution to the health sector in Vietnam.
If you have any query or suggestion, please do not hesitate to contact us at hanoi@eda.admin.ch
With my best regards,
Thomas Gass
Ambassador of Switzerland to Vietnam