Embassy of Switzerland in Serbia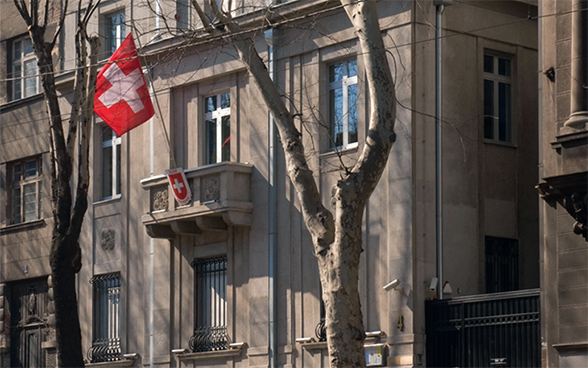 Travel information and tips
Entry requirements for Switzerland
For non-vaccinated Serbian and Montenegrin citizens, entering Switzerland is possible only if the criteria of a hardship case according to the SEM directive is met.
In case of a hardship, both Serbian and Montenegrin citizens can apply with the required documents for a Laissez-passer via belgrade.visa@eda.admin.ch.
However, Serbian and Montenegrin citizens may still enter Switzerland if they can prove that they have been vaccinated with a recognized vaccine in Switzerland.
To see what rules apply to your own particular situation when entering Switzerland, consult the online Travelcheck.
All travellers are responsible for verifying the travel restrictions in place before departure.
For further information, please consult the webpage of the State Secretariat for Migration (SEM) and of the Federal Office of Public Health (FOPH).
Entry requirements for Serbia
To contain the spread of the new coronavirus (COVID-19), Serbia has imposed numerous entry and exit restrictions and travel restrictions within the country. The regulations are constantly changing.
For the currently valid regulations in Serbia, please refer to the information provided by the responsible Serbian authorities or contact the Serbian Embassy in Bern if you have any questions.
"Entry into Serbia with negative PCR test or self-isolation", News 12.05.2020
The homepage of the Serbian government provides information on entry requirements and current figures.
Further information on the coronavirus can be found on the homepage of the Federal Office of Public Health (FOPH) and the World Health Organization.
COVID-19: Switzerland's continuous support to Serbia
Based on our long-lasting partnership, we stand ready to support Serbia in the current crisis with specific means. Switzerland provides up to 600,000 EUR to take immediate actions. In line with our cooperation so far, our focus will be on the most vulnerable within the Serbian society.
The current crisis challenges countries around the globe. Switzerland is one of the hardest hit in Europe. And still, we remain committed to our partner countries, also in the long run. We have been contributing to Serbia's economic and social development so far and we will continue to do so. Once the time has come, we will work side by side with the Government of Serbia to alleviate the social and economic consequences of the current crisis.
As the official representation of Switzerland, the Embassy covers all matters concerning diplomatic relations between the two countries. It represents Swiss interests in the areas of political, economic, financial and legal affairs, as well as science, education and culture.