Embassy of Switzerland in Ghana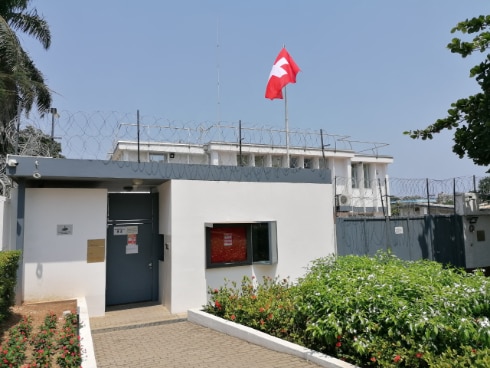 About the Embassy of Switzerland in Accra
As the official representation of Switzerland, the Embassy covers all matters concerning diplomatic relations between the two countries. It represents Swiss interests in the areas of political, economic, financial and legal affairs, as well as science, education and culture.
We have an opening for an Academic Intern
See more details on the vacancy on our internship page: Internship vacancy

For updated information on COVID-19 and entry rules, please check the following links:
Easy check to see if you are eligible to travel to Switzerland: Travelcheck
Mandatory entry form for all travelers to Switzerland: entry form
General Information on Covid-19 and health regulations, possible quarantine and obligations for testing before and/or after arrival:  website of the Federal Office of Public Health FOPH
For information on possible travel restrictions please consult the webpage of the State Secretariat for Migration SEM.
COVID certificate and vaccination for Swiss citizens living abroad
As of 20 September 2021, anyone who has been vaccinated abroad with a vaccine approved by the European Medicines Agency (EMA) and who is resident in or travelling to Switzerland will be able to obtain a Swiss COVID certificate. You can also apply for a Swiss COVID certificate if you have received a vaccine authorized by the WHO emergency use authorization protocol abroad. The documents can be submitted electronically to each canton (either last place of residence in Switzerland or place of origin).
Please consult the relevant FOPH page for details. The Embassy will be unable to consult in this matter, as the decision is of sole authority of each canton.
On August 25th The Federal Council has decided to amend the Epidemics Ordinance. This means that Swiss citizens living abroad, and their immediate family (partners, children, parents and parents-in-law living in the same household), who do not have compulsory health insurance in Switzerland, can be vaccinated in Switzerland. The vaccination costs only will be assumed by the Confederation.
Press release by the Federal council
Important changes concerning Life Certificates for AHV/AVS as of May 1, 2021
Visits via appointment only
As of June 8th, long-term "D" student visa and family reunion applications, over 90 days, can be submitted to the Embassy by appointment only, to be requested by email: accra.visa@eda.admin.ch.
For all consular affairs (passport, civil status/family reunions, legalization, etc.), please contact the Embassy by email first: accra@eda.admin.ch for detailed information and to set up an appointment.
Visa
Easy check to see if you are eligible to travel to Switzerland
As of July 2, 2021 Visa type C (stay up to 90 days) for fully vaccinated, recovered (with a certificate) – or hardship applications:
Please contact VFS Global for appointments to submit your application.
Long-term "D" student visa and family reunion applications (over 90 days stay) must be submitted to the Embassy by appointment only. Requests to be sent by email to accra.visa@eda.admin.ch
A Schengen Visa issued by Switzerland does not guarantee entry permission to other Schengen States.  Covid-19 regulations and entry requirements vary for each Schengen State. It is mandatory you verify conditions for each country you might visit before you leave your home country.

Visa representation for Belgium and Latvia
As of 1st November 2021, the Swiss Embassy is again representing Belgium and Latvia for the issuance of short term Schengen visa C.
Please note that the same requirements, application forms and instructions as for Switzerland will apply. Please submit supporting documents in English.
Please contact VFS Global for appointments to submit your application.
Important notice: Swiss in Ghana, Benin and Togo
Please see important travel advice for the following countries:
Novel Coronavirus
For information related to the Novel Coronavirus (COVID-19) kindly consult the information and directives of the local authorities (for Ghana Hotline tel. 055 2222 004, 055 2222 005, 050 9497 700, 027 737 14 06 and 024 078 62 63) and the recommendations of the World Health Organization WHO
In Togo: 111, +228 2222 2073 or +228 9167 4242.
In Benin: 95 36 11 07, 51 02 00 00, 51 04 00 00.
In São Tomé et Príncipe : +239 2224 808 or e-mail : conprec@hotmail.com / saude@ms.gov.st
On state level, the Federal Office of Public Health of Switzerland FOPH informs in regards to the Novel Coronavirus and publishes travel advice accordingly.
The Travel Advice FDFA (in German, French and Italian) offers travelers basic information for travel preparation by informing on possible risks and certain precautions. They are to be considered as a complementary source of information.
For urgent requests, kindly contact the Helpline FDFA, (Tel. +41 800 24-7-365 / +41 58 465 33 33 ) or contact the Embassy of Switzerland in Accra