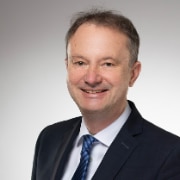 I am delighted to represent Switzerland's interests in Greece as Ambassador and to contribute to further nurturing and strengthening the multifaceted relations between our two countries. It is a special privilege to work in a country that is not only breathtakingly beautiful and attracts millions of visitors every year, but is also at the origin of the values and ideas that define Europe today.
Our continent is currently going through a period of crisis and change: no sooner has the pandemic been overcome than we are experiencing a war that no one thought possible. Inflation and rising energy prices are creating uncertainty, and our fundamental values, international law and the established international order are being called into question. Solidarity and cohesion among European partners is more necessary than ever: this is also true for Switzerland and Greece.

Last year, Greece celebrated 200 years of independence, and numerous events were also held in Switzerland. The Greek people's struggle for freedom triggered a great wave of solidarity in Switzerland and throughout Europe. The numerous philhellenic associations founded at that time still exist today and contribute to our close and friendly relations, which go far beyond the official.

The Swiss Embassy in Athens has existed since 1957, after having been established as a Consulate since 1895 and as a Legation at the beginning of the 20th century. Consular services for our citizens have always been a high priority for us. The Consular Section of the Embassy in Athens, supported by our Consulates in Corfu, Patras, Rhodes and Thessaloniki, as well as Crete and Volos (the latter both in cooperation with Austria), is at your disposal for routine matters, but also in case of emergency. You can find information about our services on this website.

What do we do in the field of diplomacy? Together with my team, I would like to promote economic cooperation, stimulate scientific and cultural exchange, strengthen the dialogue on European policy and security issues, and put a special focus on migration cooperation. In this process, you, dear readers, who hold Swiss-Greek relations close to your hearts, play the most important role. Thank you for your commitment and your valued cooperation!

Stefan Estermann
Ambassador of Switzerland to Greece