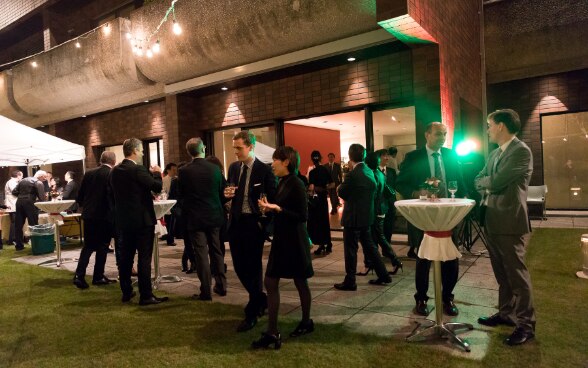 "A new instrument aiming at promoting the bilateral relations and offering an enjoyable event for members of our community": this is how Ambassador Jean-François Paroz described the "Japan-Swiss Night – A Touch of Montreux", a festive event which took place at his residence for the first time on November 2, on the eve of the Montreux Jazz Festival Japan. Concerts by Japanese yodeler Keiko Ito and Cuban pianist Axel Tosca enlivened the atmosphere, while raclette, bratwurst and draft beer were served in the garden, redesigned and illuminated for the occasion. Mathieu Jaton, CEO of the Montreux Jazz Festival, and Junichi Harada, Executive Committee Chairman / Executive Producer of the Montreux Jazz Festival Japan, both took part in the event.  
In front of some 150 stakeholders of the bilateral and diplomatic relations, Ambassador Jean-François Paroz highlighted the wide spectrum and the quality of the friendship ties between Japan and Switzerland and expressed much gratitude to government agencies and representatives of the Japan-Swiss Parliamentarians' League, to economic and corporate actors such as the Swiss Chamber of Commerce and Industry in Japan and the Japan-Switzerland Economic Council, and the many cities and clubs which have partnerships with Swiss counterparts. The numerous exhibitions, concerts and events which nourish the cultural relations were also highlighted, as well as the active roles of the Honorary Consulate-General in Kansai, the Science and Technology Office, Swiss Tourism and the Swiss Club Tokyo. 
After the buffet was open and drinks continued to be served, the party went on late into the night, with performances by DJs Shuya Okino and DJ Mitsu the Beat. Some 15 posters from Montreux Jazz Festival and Montreux Jazz Festival Japan spiced up the residence walls with "a touch of Montreux", the theme of this "Japan-Swiss Night" first edition.