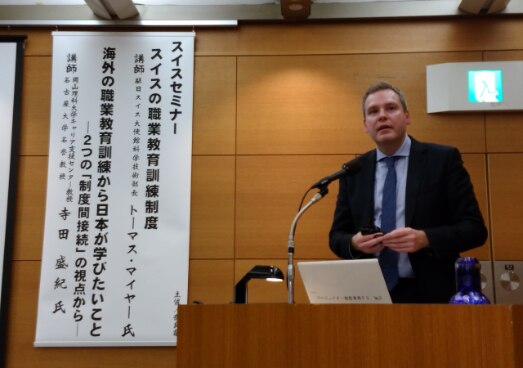 "The Swiss System of Vocational and Professional Education and Training (VPET)" was the theme of a presentation by Dr. Thomas Meyer, Head, Science & Technology Office Tokyo of the Embassy of Switzerland, in the 2nd Swiss Seminar organized by the Nara Prefectural Government on 24 January 2018 to learn from Switzerland as part of the partnership agreement with Canton Bern.
Dr. Meyer introduced the outline of the VPET system first and explained how the system works in collaboration among the federal government, the cantonal authority, and the private sector.  He touched on the merits and the labor market of the VPET system before sharing current and possible future issues of the system with the audience.  After Dr. Meyer's presentation, Prof. Moriki Terada of Okayama University of Science Carrier Support Center gave a lecture on what Japan can learn from vocational education and training in other countries.
About 110 attendants including the Honorable Shogo Arai, Governor of Nara, joined the seminar from the Prefectural Government and its related organizations, as well as the local authorities within Nara Prefecture.
Nara Prefecture signed a partnership agreement with Canton Bern in April 2015 and organized the 1st Swiss Seminar in November 2016 on the topic of the political and economic system of Switzerland.