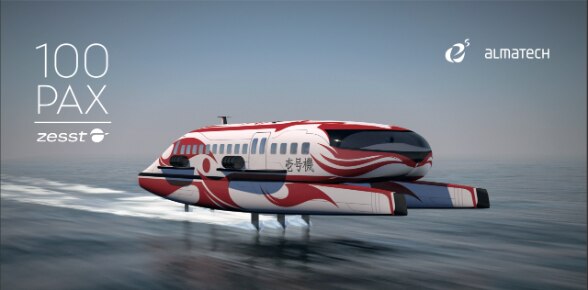 Almatech of Lausanne and e5 Lab of Tokyo set up a partnership to promote and market the revolutionary zero-emission maritime shuttle ZESST (Zero Emission Speed Shuttle) on the Japanese market. This cooperation agreement was signed on May 19 simultaneously at EPFL Innovation park in the presence of Ambassador of Japan to Switzerland Mr. Kojiro Shiraishi and at the Embassy of Switzerland in Japan in the presence of the Chargé d'affaires a.i. Mr. Markus Reubi. Also attending were e5 Lab CEO Tomoaki Ichida, Almatech CEO Hervé Cottard as well as EPFL Professor Hubert Girault and Mr. Hiroshi Fukushima of the Japan Hydrogen Association. A selected group of journalists were also attending for reporting purposes. 
Both Swiss and Japanese sides expressed their hopes and commitment to have the ZESST technology up and running at the OSAKA – KANSAI EXPO 2025 to which Switzerland has already confirmed its participation with a substantial pavilion focusing on Swiss solutions for more sustainable and prosperous societies. 
Almatech is a Swiss high-tech company of the EPFL innovation Park campus since 2009. Almateh specializes in the development and realization of complex systems for space and naval applications. Almatech works for the European Space Agency (ESA) and has built the complete structure of the first Swiss telescope-satellite CHEOPS. Almatech was also part of the Hydroptere vessel project that broke the sailing speed world record on water in 2011, thanks to its hydrofoils optimized by Almatech. 
Its passenger shuttle ZESST offers a new user experience combining speed, comfort and safety. Transport times are shorter, the on-line ticketing and its integration into a modular transport system make it a new generation MAAS (Mobility As A Service) with a very limited impact on the environment. ZESST emits no GHG, Sox, NOx or micro particles and generates little noise or waves. ZEEST works with green Hydrogen to get rid of all fossil energy. Finally, its structure uses new-generation composite materials based on plant fibers to even further reduce its ecological footprint. 
Launched in 2019, e5 Lab is a joint venture consisting of Asahi Tanker, Exeno, Mitsui O.S.K Lines and Mitsubishi that targets the commercialization of zero-emission electric-powered merchant and passengers ships.