Innovative rural female leader uses video to promote collaboration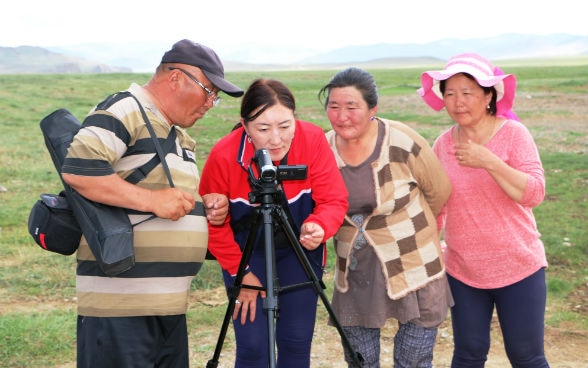 Equipped with just a camcorder, a pioneering community leader is traversing the Mongolian countryside, using the power of film to encourage herders to embrace collective action for sustainable rangeland management.
Mrs Udval, head of the Association of Pasture-User Groups in Tsetseg soum, Khovd aimag, is using the film-making skills she gained in training provided by SDC's Green Gold Project to document local people's knowledge and experiences in a series of participatory videos that give a voice to remote herding communities.
On 15 October, Mrs Udval drove 50km to meet with a herding community that had gathered to celebrate the completion of a khashaa - a warm winter shelter for livestock - built by members of the Zaisan Pasture-User Group (PUG).
"It's great work for this community that they joined forces and resources to build a large khashaa for the livestock of one member of their PUG," she said. "This is something important to share with other communities to encourage them to act collectively in order to accomplish more."
In preparation for filming, the herders developed a storyboard - a hand-drawn visual plan to guide the video - on how they built the khashaa. Once completed, Mrs Udval began recording the process, complete with interviews with those who took part.
"I'm happy that I built the fence for newborn animals thanks to the support I received from my fellow herders," said Batbileg, a member of the Zaisan PUG and owner of the new khashaa. "There are many herders who need the support of others. We plan to build fences for at least three herders each year."
"Using video to encourage herder participation, learning and exchange is completely new for us," Mrs Udval said. "Mongolians say that it's better to see something once than to hear it a thousand times. Therefore, videos are more effective in explaining the accomplishments of others than just my words alone."
After finishing her day's work as APUG leader, Mrs Udval then drove about 90km to the next community. That evening, she edited the video, using local music as an accompaniment. The next morning, she met with the herder community, who were largely unfamiliar with the work of SDC's Green Gold Project in supporting herders in pasture management and collective action.
She showed them the five minute long video she had produced, which captured the herders' attention, particularly when they saw the benefits of communal work, and resulted in a round of questions on how they, too, could engage in such collaborative efforts.
Mrs Udval will continue to meet with herders in neighbouring communities where she plans to introduce joint pasture-management practices.
"I believe that meetings and activities with herders are more efficient with the use of the videos we produce together," she said.
By: Tuvshintungalag and D. Soyolmaa