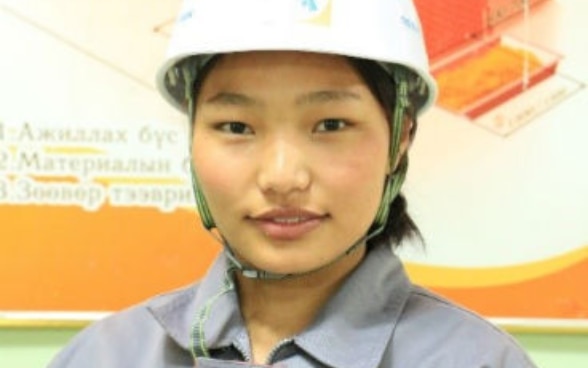 J. Enkhchimeg: "I have a dream to manage my own construction company"
J. Enkhchimeg is breaking gender barriers and making history in an industry that has traditionally been dominated by men.
Following in her mother's footsteps, she is studying to become a bricklayer and concreter and is already making her mark nationally and internationally.

Enkhchimeg is the first Mongolian woman to take part in the bricklaying component of the international skills competition WordSkills, this year held in Sao Paulo, Brazil.
She secured her place in the event after taking out first place in the 2015 MongolianSkills competition. It was the third time she had participated in the national event; in 2013, she came in third place, and the following year she came in second.
"My mother is a bricklayer," Enkhchimeg said. "So I've been very familiar with this profession since I was little. Personally I'm fascinated with how houses are built from the ground up. I have a dream to manage my own construction company in the future."
It isn't just skill that's taking Enkhchimeg to the top of her profession. According to her teacher at the Ulaanbaatar Polytechnic College, the key to her success is "her ambition and endurance".
By B. Zolbaatar