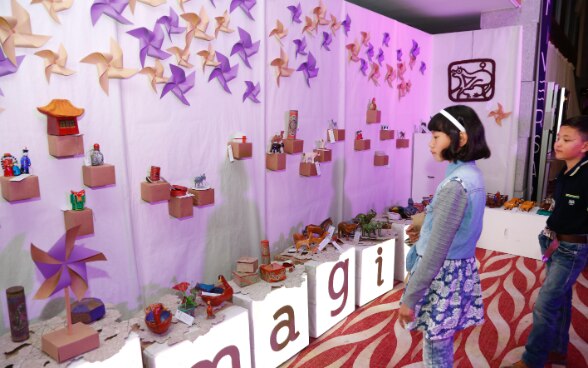 Papier-mâché is a form of traditional art of papier-mâché that consists in pasting layers of light paper on a special wooden, clay, or earthen cast.  Glue can also be applied to paper pulp obtained from soaking or boiling paper. Historically, papier-mâché was used in Buddhist art to prepare Buddha statues and sacred masks for the Tsam – a masked dance. Tsam masks have an artistic expression unique to Mongolia and are usually kept in monasteries to be worn for rituals and festivals. 
The project, initiated by the Arts Council of Mongolia (ACM), trained 20 women, in papier-mâché techniques through hands-on training with the support and mentorship of leading entrepreneurs, artists and art and culture organizations.
Some of the participants used recycled papers to create a series of innovative local products that combine modern and traditional Mongol designs. The creative work pieces have come to life in the opening exhibition of the project, which was held on 26 April in Ulaanbaatar.
The ACM is working to make sure the products succeed in their potential markets, in partnership with international art experts and local stores. The sustainability of the project largely depends on the income that will come from the sale of the products and from an established collaboration between the papier-mâché makers and local galleries and stores.
To this end, ACM created a focal point for the project at the Red Ger Gallery and Zanabazar Fine Art Museum in Ulaanbaatar. The Red Ger Gallery will serve as a training facility, paper-collecting zone, public display space, and official online and in-store retail service area. The art products are now on sale at the Zanabazar museum – one of the tourist attraction sites in Ulaanbaatar.
All profits coming from this project will be used to help the trained women to expand their business and gain full ownership of their crafts, thereby creating a sustainable livelihood for themselves.
Growing poverty and inequality are major problems in Mongolia. Considerable inequalities still exist between men and women in labor markets in terms of participation, wages, and occupational roles. The World Bank's policy report (Khan and Aslam 2013, 11) states that "women in Mongolia participate less than men in the labor force and Mongolian labor markets are highly segmented by gender."
The Papier-mâché Arts Impact Project of Reimagine Mongolia, therefore, focuses on creating a self-sustainable and ecofriendly system to empower women through art, recycling, and heritage education.  
"I received many orders from my friends and relatives to create papier-mâché products like elephants, snuff bottles, etc. Currently, I am teaching other unemployed ger district women in collaboration with World Vision Mongolia. Meanwhile, I am still producing my papier-mâché products to generate income for my family,'' said Mrs. M. Dulmaa, 41 years old, lives in 3rd khoroo of Songinokhairkhan district of Ulaanbaatar.
Another participant, Mrs. B.Chuluun, 31 years old, who lives in the same district, said that she was encouraged by her first orders from a kindergarten in her district to make papier-mâché dolls and toys for kids. Now she finds meaningful ways to support her livelihoods after suffering from disability due to an accident happened five years ago.
At the completion of the project, ACM made contract with seven participants to continue their papier-mâché production.
Thanks to the Cultural Support Grants of the Swiss Agency for Development and Cooperation in Mongolia, the project provided new opportunities for craftspersons in marginalized communities to gain access to the mainstream market, contributing to preserve the traditional crafts of Mongolia.