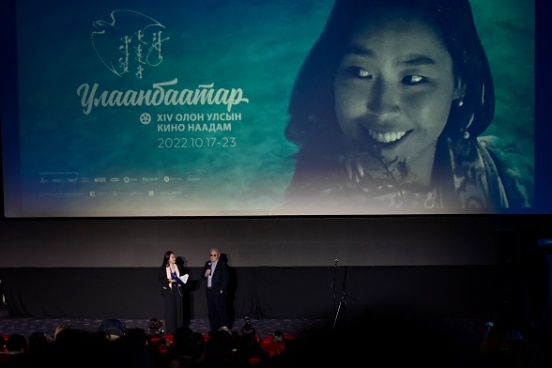 Today, the festival is one of the most prestigious artistic and far-reaching events in Ulaanbaatar to introducethe public—particularly the youth—to artistic excellence and cultural diversity by contributing to the better understanding of the cultures of different nations and generating discussion through cinema.
This year, UBIFF was organized from October 17 to 24 and had significant changes made to its programming. As part of our capacity-building approach, the festival organizers decided to initiate change and train local programmers to expand the outreach of UBIFF's international program and build sustainable networks with international film festival programmers. To sustain the festival's traditions and bring broader involvement of the local film community to the UBIFF, the Arts Council of Mongolia established the Artistic Committee, representing the diverse filmmaking backgrounds of locally acclaimed producers and critics. Three members of the Artistic Committee traveled to Cannes with SDC support and presented UBIFF at Cannes in partnership with the Mongolian National Film Council (MNFC). The committee members actively participated in the programs organized by the MNFC and set up meetings with the Locarno and Venice festival teams.
Since 2020, the New Horizons section of the Locarno Film Festival has presented one Mongolian retrospective film from the 20th century with English subtitles. Every year, this film features the theme of the annual UBIFF.
This year is a special year for the festival. The festival's long-term partnership with the Locarno Film Festival has brought a wide range of opportunities to promote the Mongolian film industry abroad and to enhance the capacity of Mongolian filmmakers and producers with excellent achievements. We are happy to say that some members of the Arts Council, working in partnership with the Mongolian National Film Council, presented the UBIFF at the Cannes International Film Festival. Mongolian films are recognized internationally, and interest in Mongolian films is increasing worldwide. Amazing!
Thanks to creative collaboration with the Locarno Film Festival's Open Doors Program, UBIFF expanded its outreach and organized a special Film Forum in Mongolia. This year, we invited alums of the Open Door Program from various Asia-Pacific countries, such as Pakistan, Nepal, and South Korea, to be present to share their experience and knowledge. The forum's goal was to foster the collaboration of film professionals in the Asia-Pacific region and further strengthen the capacity of the local film industry. The Swiss Agency for Development and Cooperation supported this unique initiative to foster local cultural identity and artistic diversity and encourage the creative use of art for social transformation and development in Mongolia. 
For more information please visit here.