Consulate General of Switzerland in Vancouver
Consulate General of Switzerland in Vancouver © FDFA
Swiss Immigration to Canada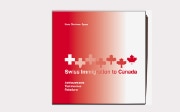 Achievements - Testimonies – Relations
Ilona Shulman Spaar
240 pages in colour, English, richly illustrated with pictures, Hardcover, laminated, 11" x 11"
Available through Amazon

Enjoy an extensive view behind immigration history from Switzerland to Canada and get to learn these interesting and different life stories.
Important Information in Case of an Emergency
Job applications/internship
There are currently no employment or internship vacancies at the Consulate General of Switzerland in Vancouver. Applications are not being accepted at this time.
Specific information on the Provinces covered by this Consulate General: