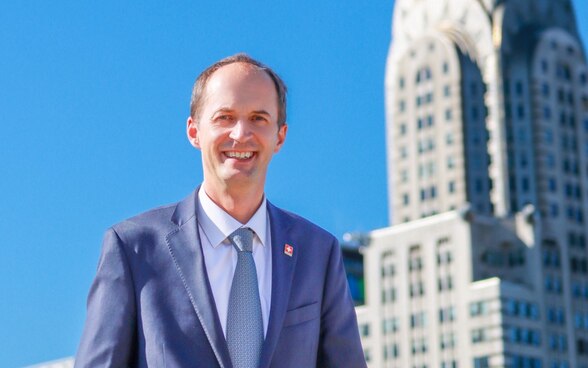 Dear fellow Swiss citizens, dear friends of Switzerland,
I am excited to arrive exactly 200 years after Henri Casimir de Rham, the first Swiss Consul in New York, was appointed. It is my privilege to follow his footsteps and represent Switzerland in the economically and culturally rich setting that stretches now from New York to 17 other states*.
I take on my new position at a time when New York and New Yorkers have once again demonstrated their resilience and strength, re-emerging from a crisis. Even though the pandemic is not completely eradicated, I am happy that life has returned to the city, events have started to pick up again and business as well as social gatherings and in-person collaborations are back.
The Consulate was first founded in 1822, so this year, we are celebrating its 200th anniversary. Please enjoy a journey through two centuries of successful and fascinating Swiss presence in New York by reading our 200 years anniversary brochure and I look forward to many more success stories!
Since then we have come a long way. The early Swiss impact in New York has developed into a very intense and close relationship with New York and the entire U.S. In 2021, the U.S. has become Switzerland's most important export market worldwide. As the United States' 7th largest foreign direct investor and largest investor in research and development, Switzerland's considerable economic impact in the United States is reflected as well in the large number and variety of Swiss companies. These companies directly create half-a-million jobs and provide among the highest average salaries in a country-by-country comparison.
As you know, Switzerland is more than cheese, chocolate and watches. My goal is to also present Switzerland as a leading country in innovation, sustainability and culture.
It is my intention that the Consulate General functions as an entry point for everyone interested in Switzerland. I would like the Consulate to be a service provider for the Swiss community, by offering consular assistance and many other services. Furthermore, we continue to promote trade relations, and support American and Swiss businesses, institutions, professionals, artists, scientists and visitors.
Among the factors that have underpinned the dynamism of Swiss presence is undoubtedly the Swiss community, to whom I would like to express my great appreciation. For me, these Swiss are the true Swiss Ambassadors as they build bridges between the two cultures every day. They are a continued example of hard work and success, and have been crucial in fostering and enhancing Swiss impact in New York and the entire circumscription.
I look forward to getting in touch with you and to fostering the already excellent relations between Switzerland, New York, and the circumscription of States under my responsibility.
Do not hesitate to reach out to my team, and to me, at newyork@eda.admin.ch. And stay connected on our Social Media channels (Facebook, Twitter, Instagram and LinkedIn) and sign-up for our newsletter to find out about Switzerland's impact right now and how you can be a part of it!
And if you want to see how Switzerland's inventions, designs, buildings and products enrich the daily lives of New Yorkers, please watch our video "Surprisingly Swiss, A Day in the Life of a New Yorker"
Sincerely,
Niculin Jäger, Ambassador
Consul General of Switzerland

* States of New York (NY), New Jersey (NJ), Massachusetts (MA), Pennsylvania (PA), Connecticut (CT), Wisconsin (WI), Ohio (OH), Michigan (MI), Minnesota (MN), New Hampshire (NH), Vermont (VT), Maine (ME), Rhode Island (RI), Puerto Rico (PR), Bermuda (BDA), South Dakota (SD), North Dakota (ND), U.S. Virgin Isl. (VI).