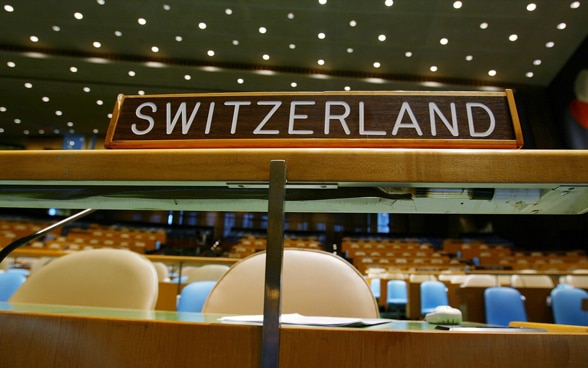 Switzerland's priorities for the 77th session of the UN General Assembly (UNGA), which runs from September 2022 to September 2023, are:

1. Addressing the impact of the armed conflict in Ukraine
The war in Ukraine will continue to occupy the UN in the coming months. Switzerland will therefore work to ensure that the far-reaching repercussions of the war on such issues as food and energy security and military build-up are addressed. In its capacity as a universal platform for dialogue, the UN remains central to discussions on such global challenges. Its field operations also make a concrete contribution to dealing with the negative consequences of the war that are being felt worldwide.

2. Promoting international law
The war in Ukraine also highlights the importance of a rules-based international order. Switzerland is thus in favour of international law being properly recognised, observed and enforced within the UN framework with a particular focus on human rights, especially the rights of women and minorities, and international humanitarian law. In addition to these long-standing priorities for Swiss engagement, emerging issues such as the application of international law in cyberspace will also be one of Switzerland's focus areas in the coming year.
 
3. Supporting an effective UN system:
A number of global challenges can only be solved with international cooperation. To this end, Switzerland is committed to effective multilateralism. This means activities such as advocating for an effective and efficient UN system with better working methods, and taking an active part in discussions on veto reform in the Security Council. Switzerland is also therefore supporting the UN secretary-general's UN 2.0 initiative, which includes expanding the organisation's capabilities in data usage and innovation.

4. Advancing sustainable development:
Implementing the 2030 Agenda and its 17 Sustainable Development Goals (SDGs) remains one of Switzerland's priorities. This includes a commitment to the preservation and sustainable use of a healthy environment as well as climate change mitigation. Switzerland will advocate for these concerns at the UN Climate Change Conference COP 27 in November 2022 and in the preparations for the next UN Food System Summit. With water issues as another key focus area, Switzerland will also actively participate in the mid-term review conference of the UN Decade of Action Water for Sustainable Development 2018–28 to be held in March 2023.

It will continue to follow all UN-related themes in addition to these four priorities so as to ensure that Swiss interests remain safeguarded. This is also important because, despite the consequences of the Ukraine conflict, the other pressing problems facing humanity should not be neglected – peace and security, disarmament, humanitarian aid, digitalisation, cyber crime and reforms. Switzerland will also continue to play an active role in safeguarding the interests of International Geneva. All activities carried out by Switzerland are based on its foreign policy strategies, dispatches and guidelines.

Opening week focused on education
The UNGA's 77th session will officially begin on 13 September 2022 and will continue for one year. The high-level opening week will take place from 19 to 23 September.

During this week, President Cassis will attend from 19 to 21 September a series of events, making use of the opportunity to discuss a range of subjects with other heads of state and government and foreign ministers. On Monday 19 September, he will attend the Transforming Education Summit and presumably the SDG Moment for the 2030 Agenda; the following day he will deliver Switzerland's official address at the UNGA's general debate and chair together with the President of Niger a pledging conference for the Global Community Engagement and Resilience Fund (GCERF). GCERF, which is based in Geneva and was co-founded by Switzerland, funds grassroots initiatives in a number of countries in order to strengthen resilience to violent extremism.
---


Informe Prioridades de Suiza para el 77 AG de la ONU(pdf, 299kb)

---
Address for enquiries:
For further information:
FDFA Communication
Tel. +41 58 462 31 53
Tel. Press service +41 460 55 55
kommunikation@eda.admin.ch
---
Publisher: