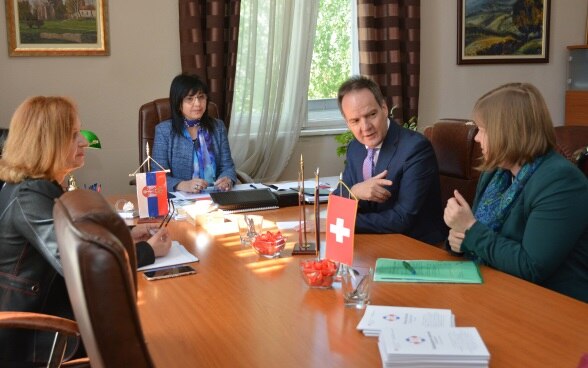 These projects are "From Education to Employment – E2E" and "Municipal Energy Efficiency and Management Project in Serbia – MEEMP". His Excellency, Philippe Guex, began the visit to Krusevac with a meeting with representatives of local self-government and stakeholders in the above-mentioned projects.
"Switzerland is among the leading bilateral donors in Serbia. Expectations from these two projects implemented in this city have been fulfilled, and I am particularly pleased with the achievements of the "From Education to Employment" project, through which young people improve their skills and therefore the chances of employment," said Swiss Ambassador Philippe Guex after the meeting.
Krusevac's "Dunipak" is one of the companies that will train young, unemployed people for work in the production of cardboard boxes in the second cycle of the project "From Education to Employment". This is a family company, which has existed around two decades, and the owners - brothers Dusan and Nikola Deljanin - talked to the ambassador about how important it is for their company to train production workers.
The Swiss delegation and project partners also visited the "Jovan Popovic" primary school, which will be reconstructed as part of the project "Municipal Energy Efficiency and Management Project in Serbia". In addition, five more schools and one kindergarten will be rebuilt in Krusevac. During the school visit, the Swiss Ambassador talked with sixth grade students who recently participated in a learning workshop on energy efficiency within the project.
After the meeting, the Deputy Mayor Vesna Lazarevic told to the reporters that, apart from the work already done, some future projects were also discussed during the meeting, specifying that an analysis of the economic situation and unemployment should be carried out, and that the Swiss partners are willing to help with what the City deems most needed.