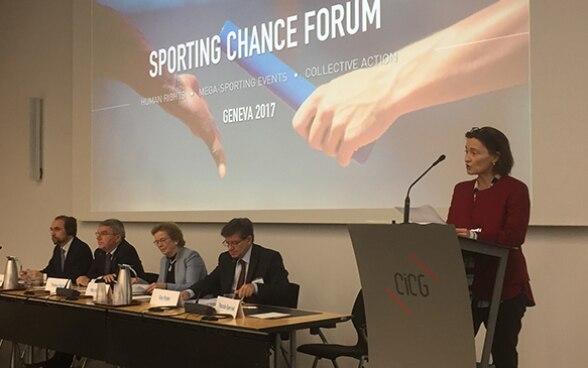 As the home of some of the biggest multinational companies and 70 of the world's largest international sports federations, Switzerland is working to ensure respect for human rights in the area of business and mega sporting events (MSEs).

Different human rights issues are often in conflict with the life cycle of mega sporting events. "The Olympics Games, the World Cup and the UEFA Champions League are special moments in our lives. They bring nations together and are exceptional opportunities to appeal to people's emotions and raise awareness of universal values founded on human rights," said State Secretary Pascale Baeriswyl at the opening of the 2017 Sporting Chance Forum in Geneva.

She also pointed out that MSEs shine a spotlight on human rights challenges in host countries and on the human rights performance of the companies and sponsors involved in staging the events. MSEs usually face major themes in the field of business and human rights such as concerns over land acquisition, labour rights abuses during venue construction, exploitation of migrant workers, alleged sweatshop and child labour in merchandise production, constraints on the right to protest, clearance of homeless people and street children, and human rights issues on the track and field itself. 
Switzerland supports the dialogue process

Switzerland has supported and led the Mega-Sporting Events Platform multi-party dialogue process since 2015. Together with international sports federations such as the International Olympic Committee and FIFA, both of which are based in Switzerland, as well as athletes, states, sponsors, NGOs and international organisations, it is working to ensure the implementation of the UN's Guiding Principles on Business and Human Rights at mega sporting events. At the Sporting Chance Forum earlier today, the Mega-Sporting Events Platform adopted a set of principles to ensure that human rights due diligence procedures are incorporated into the awarding of mega sporting events. A web tool provides host cities and countries with step-by-step guidelines on how to organise such events in compliance with the UN's guiding principles. The principles place particular emphasis on the integration of human rights into the governance of sports federations and product retail chains. The principles will thereby help prevent human rights violations and improve access to compensation for victims of human rights violations during mega sporting events.

Switzerland's efforts in this area drew praise and support from the president of the International Olympic Committee, Thomas Bach, the UN High Commissioner for Human Rights, Zeid Ra'ad Al Hussein, and the director-general of the International Labour Organization, Guy Ryder. These three key stakeholders came together with over 170 representatives of governments, sports federations, civil society, trade unions, athletes, sponsors, media and international organisations in support of this joint initiative. A yet-to-be-established centre will play a major role in promoting respect and protection of human rights at mega sporting events worldwide.
---
Further information:
Sporting Chance Forum 2017: Program

---
Address for enquiries:
Information FDFA
Bundeshaus West
CH-3003 Bern
Tel.: +41 58 462 31 53
Fax: +41 58 464 90 47
E-Mail: info@eda.admin.ch
---
Publisher: