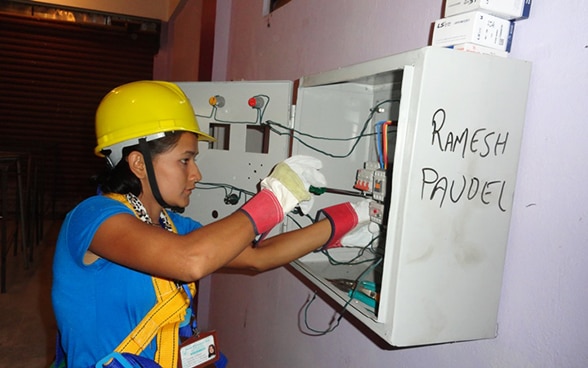 In 2017, Switzerland spent CHF 3.049 billion on ODA – CHF 480 million less than the previous year (CHF 3.529 billion in 2016). The ratio of ODA to GNI in Switzerland was 0.46% in 2017, its lowest since 2013 (0.53% in 2016). GNI growth in Switzerland also has an impact on this ratio.
The decrease in ODA in 2017 is primarily a result of the considerable reduction (- 59%) in ODA expenditure on asylum in Switzerland. This is mainly because of fewer asylum applications but also the amendments to DAC guidelines on calculating asylum-related costs. The percentage of the total amount of ODA asylum-related expenditure in 2017 was 9%, whereas in 2016 it was 19%.
The ratio in non-asylum related areas also went down from 0.43% in 2016 to 0.41% in 2017 as a result of the savings measures passed by Parliament. After having increased between 2013 and 2015 towards the 0.5% set by Parliament, ODA non-asylum related expenditure has decreased progressively owing to budget cuts in the credit for international cooperation.
ODA contributions are calculated on the basis of the OECD DAC guidelines. This allows a statistical comparison of the international commitments of the 29 DAC member states in terms of their percentage of GNI spent on ODA. According to the OECD's press release, 11 DAC member states increased their commitments in 2017, whereas 18 spent less – including Switzerland. Five countries (Denmark, Luxembourg, Norway, Sweden and the United Kingdom) reached 0.7% (six countries in 2016). Switzerland ranks 11th in absolute ODA spending.
---
Further information:
SDC: Statistical tables
OECD/DAC press release, 09.04.2018

---
Address for enquiries:
Information FDFA
Bundeshaus West
CH-3003 Bern
Tel.: +41 58 462 31 53
Fax: +41 58 464 90 47
E-Mail: info@eda.admin.ch
---
Publisher: