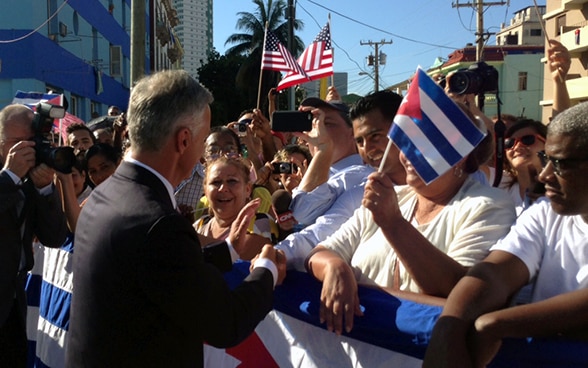 On 14 August, a ceremony will take place for the reopening of the US embassy in Havana in the presence of John Kerry. The United States and Cuba broke off diplomatic relations in 1961. Switzerland took a protecting power mandate in Cuba at the United States' request, and had since represented the United States' interests in Cuba. From 1961 to 1977, Switzerland played an active role between the United States and Cuba. The mandate covered much more than providing traditional consular services. Switzerland and Swiss diplomats in Cuba were an important channel of communication between the United States and Cuba and contributed to de-escalation in periods when the Cold War threatened to turn hot.
In 1977 the United States and Cuba signed an agreement that allowed the countries to maintain their own interests section in Havana and Washington respectively. From then on the nature of Switzerland's role as protecting power was essentially formal. With the resumption of diplomatic relations on 20 July 2015, Switzerland's protecting power mandates for the United States in Cuba and for Cuba in the United States (since 1991) came to an end.
John Kerry invited Didier Burkhalter to attend the reopening of the US embassy on 14 August to express appreciation for Switzerland's role and as a gesture of goodwill towards Switzerland. A discussion between Didier Burkhalter and John Kerry is planned on the margins of the ceremony.
The day before the ceremony, Didier Burkhalter is meeting Cuban Foreign Minister Bruno Rodríguez Parrilla for official talks. This is the first ministerial-level visit between Switzerland and Cuba. Switzerland and Cuba enjoy good relations. Cuba is a priority country for the SDC, which is working mainly in the area of decentralisation in Cuba. Economic relations with Cuba are not particularly strong but show potential. In 2014 Switzerland imported CHF 31.2 million worth of goods from Cuba, while exports amounted to CHF 17.8 million. Other discussion topics include the next steps in the process of rapprochement between Cuba and the United States, the reforms in Cuba, multilateral cooperation and human rights.
---
Address for enquiries:
Information FDFA
Bundeshaus West
CH-3003 Bern
Tel.: +41 58 462 31 53
Fax: +41 58 464 90 47
E-Mail: info@eda.admin.ch
---
Publisher: