SwissInTouch, Switzerland in your pocket
Approximately 780,000 Swiss citizens abroad currently benefit from the wide range of services provided by a global network of representations offering advice and support. The FDFA Helpline is also on hand to answer queries 24 hours a day, 365 days a year. Now there's a new app that makes staying in touch even easier: SwissInTouch keeps Switzerland at your fingertips.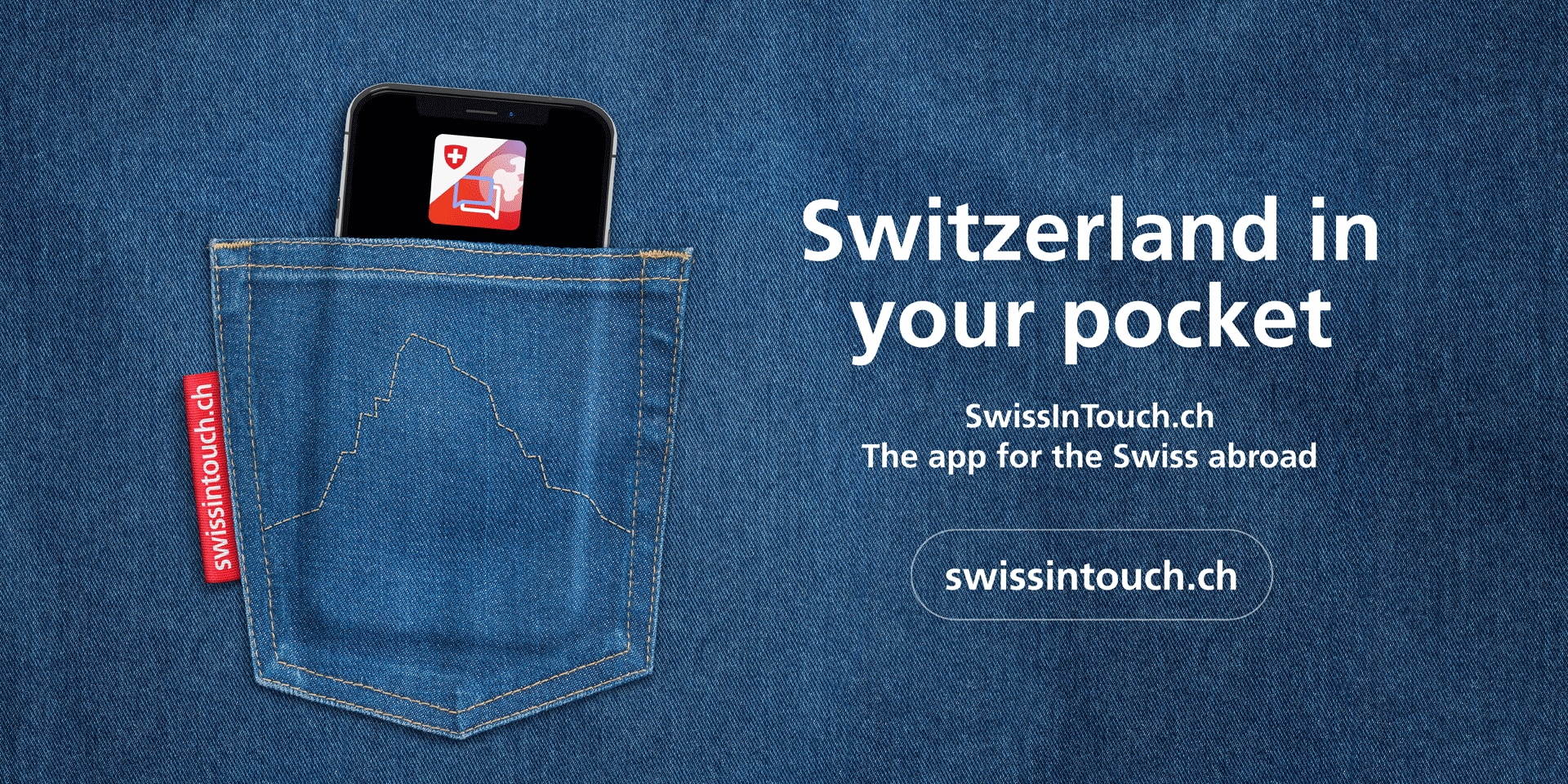 The app is available now at www.swissintouch.ch. © FDFA
Was there a need for an app like this? Andreas F. seems like the person to ask. He's an engineer who was born in Ticino and now works in London – where he experienced first Brexit and then the onset of COVID-19. During this period of uncertainty, the Swiss representations in the UK were a key point of reference for him. "They were certainly there for us in these circumstances. For example, their websites weren't bad – but we lacked information that was relevant to our specific situations. And although the Swiss around him got organised on social networks and shared their experiences, "there was no direct official communication channel that was always up to date", says Andreas.
That's exactly what SwissInTouch is for.
An app to fill a need
President of the Confederation Ignazio Cassis unveiled the plans for the app in August at the Congress of the Swiss Abroad in Lugano: "The name SwissInTouch was chosen to illustrate the need for dialogue and exchange that led to the app's development. It reflects the FDFA's determination to provide its citizens with high-quality services that are constantly being optimised and modernised."

The idea is to enable the Swiss abroad to receive and find important information from their official representation, the various federal authorities and other institutional partners on a single, state-of-the-art platform. The app's development included a test phase involving staff from the Swiss representations and expats in Beijing, Rome, Berlin, Paris and London. Andreas was one of a few dozen people who got the chance to try it first. Their feedback has been invaluable in making the platform intuitive and user-friendly.
The first reviews are promising: "Having used it for a few days I am satisfied with the app's functions. Any help we get abroad is valuable. It's cool to have something more live and up to date than a simple website," says Franziska B., a Bernese student at La Sapienza in Rome.
Targeted features
The application supports existing communication platforms, such as local consular services, the FDFA's online desk and Travel Admin, the companion app for Swiss travellers.

SwissInTouch aims to bring the Swiss abroad and the public authorities closer together. The app fosters targeted communication: representations abroad can post updates directly intended for the Swiss community in their consular district. It is also possible to send out information to specific target groups, such as senior citizens or students. This means users have a single dedicated newsfeed for their place of residence, which makes it much easier to access information that might otherwise be scattered in different places.
No registration is necessary, although you do need to create an account to access some additional features. These include a chat function allowing users to contact the representation informally, even outside office hours. Anonymous surveys give users a say on a variety of issues, ensuring that the needs of the Swiss abroad are better taken into account. And lastly, a personalised calendar makes it easier to register for a consular service appointment and sign up for certain events.