Farewell and Welcome!
Federal Councillor Ignazio Cassis invited retiring and newly appointed staff from three different career paths within the Federal Department of Foreign Affairs (FDFA) to share knowledge and experiences with each other at a ceremony at the Bernerhof on Tuesday 31 August 2021.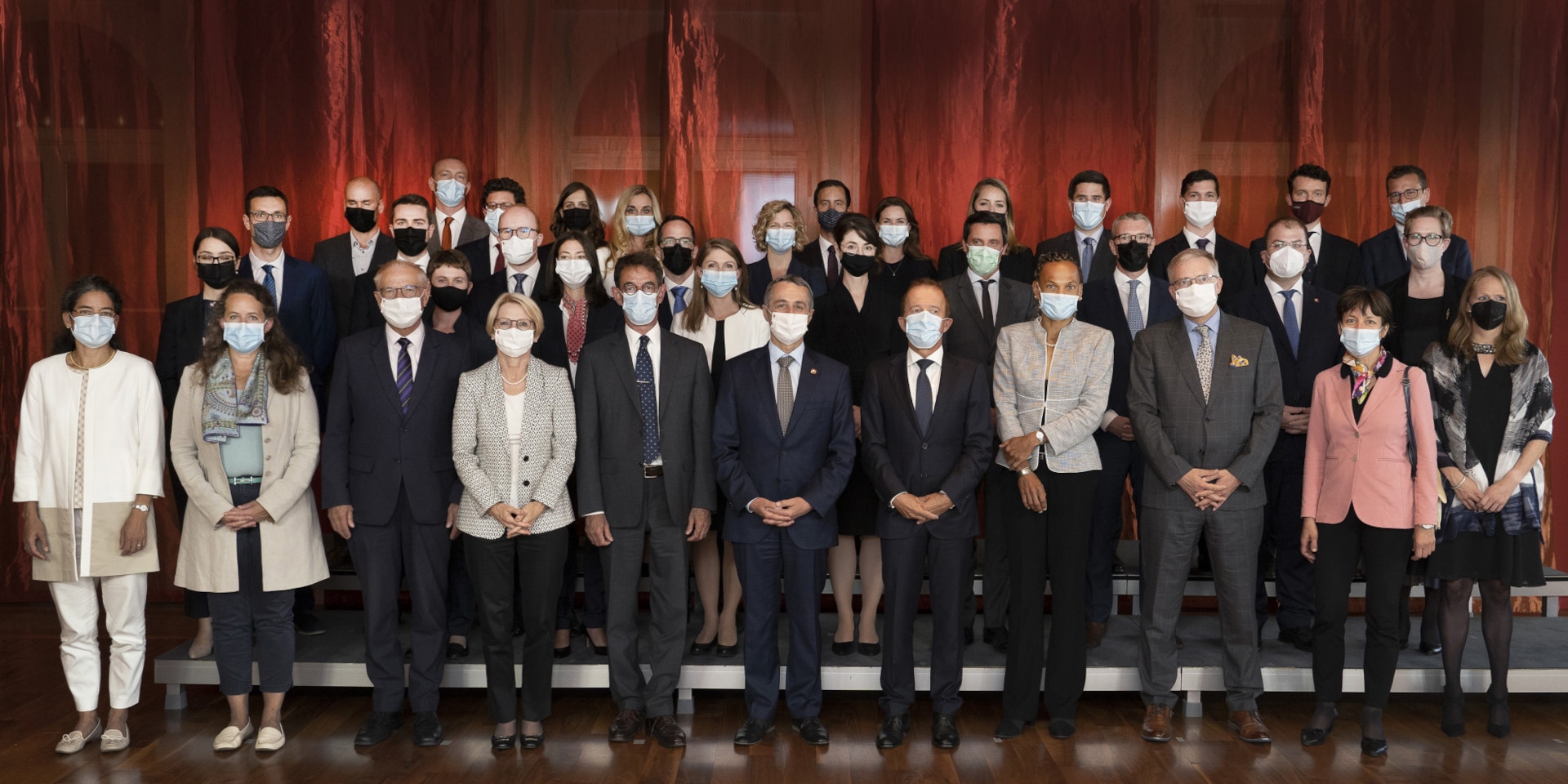 Switzerland's foreign policy and the people behind it reflect the country's traditions, diversity and innovative prowess. © FDFA
Ambassadors Olivier Chave and Peter Burkhard have been around the globe, with their careers having taken one of them to New York, Rome, Bern and Uzbekistan and the other to Central Asia, Ukraine, the Caucasus and the Balkans, as well as Cuba.
Today, they are at the Bernerhof because after decades of work promoting Switzerland's foreign policy, both of them are retiring, passing the baton on to the next generation at their side – young diplomats launching their career. Having just completed their demanding training, they have now officially assumed their functions on one of the FDFA's three transferable staff career paths – Diplomacy, International Cooperation, and Consular Affairs, Management and Finance. In total, there are 29 new graduates this time around.
Old hands and young talent
For the second year in a row, Mr Cassis, head of the FDFA, invited them to a joint ceremony in Bern entitled Farewell and Welcome. "Today, we want to symbolically combine the two; old hands are leaving us and passing the torch to young talent. This generational handover will only meet with success if we connect the two generations," explained Mr Cassis at the opening of the ceremony in Bern.
The senior diplomats' wealth of experience connected with the youthful dynamism of the fresh graduates is highly valuable in tackling the challenges of our time and effectively implementing Switzerland's foreign policy strategy on the ground.
"I have had the rare opportunity to experience a varied career, pursuing various approaches changing with one function after the other – development cooperation, multilateral diplomacy and bilateral diplomacy. After three decades, I am more convinced than ever of the benefits of this blend, of this mobility; both professionally and personally. These varying experiences have complemented and enriched each other," says Ambassador Chave.
The power of diversity coupled with a common compass
Implementing Swiss foreign policy is a daunting task, as everyone at the ceremony knows. The world is complex and multipolar, with manifold global crises and challenges.

A good compass is thus crucial and Switzerland's Foreign Policy Strategy 2020–23 fulfils this guiding function.
The immense human diversity that makes up the Department is equally important. As the head of Swiss diplomacy put it, thanking his staff: "With your diverse backgrounds and experiences, each of you is helping us put this strategy to work in the interests of Switzerland around the world."
Those present are of the same mind. "While our department does have numerous tasks and objectives, they are also innovative and well-defined while still broad in scope, and they contribute in the Swiss way to promoting prosperity and peace in the world," explains Corinne Corradi, among those invited to take the floor. She joined the Swiss cooperation office in Nairobi to contribute to SDC programmes and projects in the Horn of Africa. Ms Corradi adds: "Each of us brings their skills and methods to the table, allowing us to understand issues and processes from different perspectives. This also helps us break new ground together."
Mattia Bellini, responsible for finance, personnel and administration in the Swiss cooperation office and consular agency in Tajikistan, also praises the diversity of backgrounds that enriches the work of his representation and promotes Switzerland's interests: "My colleagues and I come from different professional backgrounds. I am convinced that this wide range of diverse roots, skill sets and training is a strength allowing us to learn something new every day and work towards the common goal of serving Switzerland abroad."
Intergenerational complementarity
The young diplomats underscored their enthusiasm about starting this new chapter of their lives, while also stressing that they take the new, daunting tasks seriously and deeply respect their predecessors' achievements.

"We are well aware that having now been allowed to take on responsibility, we stand on the shoulders of all the preceding generations," said Julia Stricker, First Secretary (political affairs, peace and security) at the Permanent Mission of Switzerland to the United Nations in New York.
She added: "It is an honour and a privilege for all of us, together with experienced colleagues, to help promote Switzerland's interests and values in this rapidly changing world."
Turning to Mr Burkhard and Mr Chave, she finished her statement with the hope that when she herself retires, she will also be able to say that she and her generation "have lived up to the high standards that you and we have set for ourselves."