Clean drinking water for four million people in eastern Ukraine
Since the outbreak of the conflict in Ukraine in April 2014, Switzerland has been providing assistance to people in the east of the country who have been impacted by severe supply shortages. A key element of this is the provision of relief supplies organised by Swiss Humanitarian Aid. On 23 July 2020, a convoy of trucks containing equipment to provide clean drinking water for four million people living on both sides of the contact line reached the city of Sloviansk. Switzerland has already organised eleven such convoys, carrying 12,500 tonnes of relief supplies.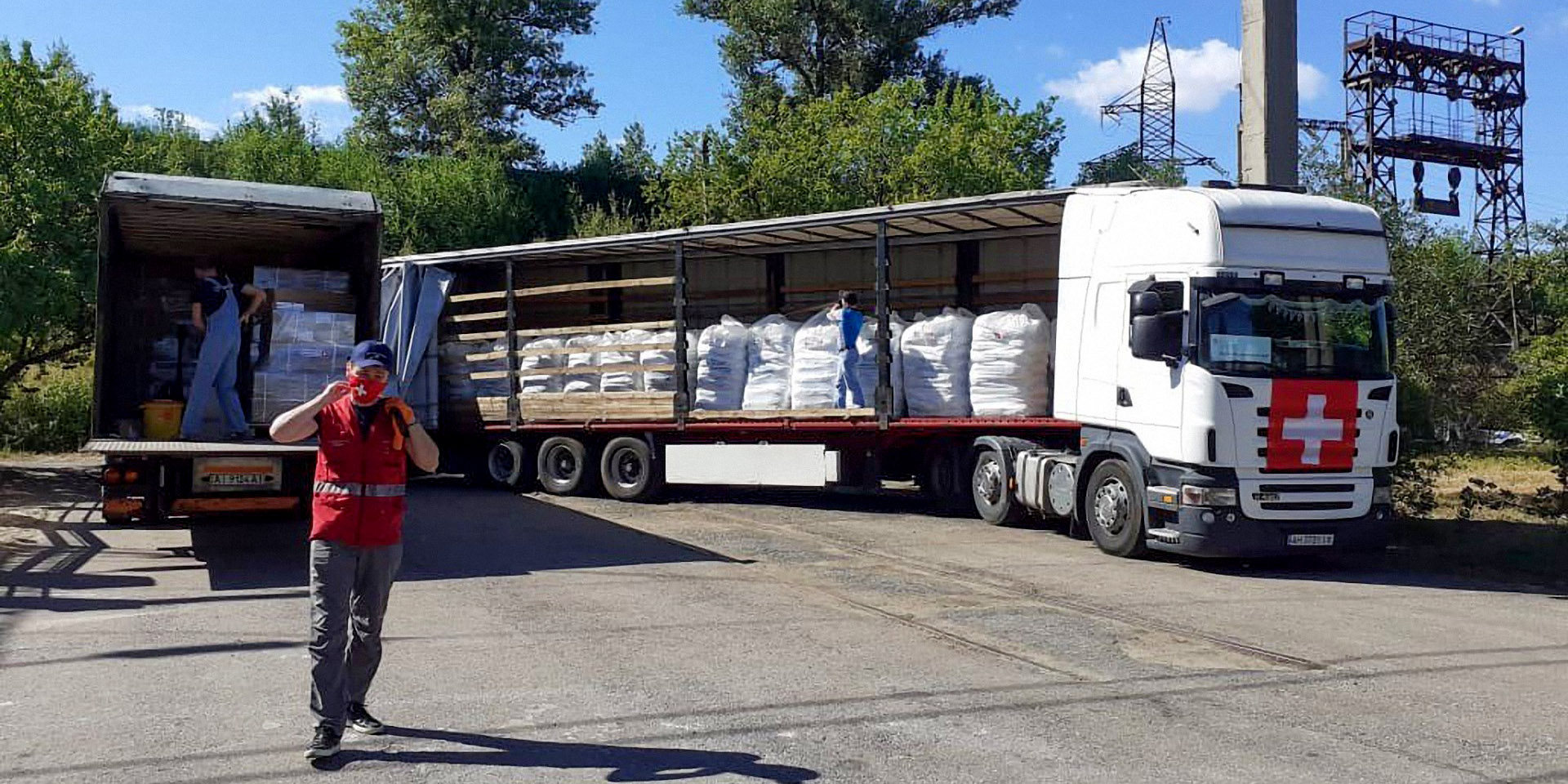 On July 23, 2020, a convoy carrying 300 tons of equipment for the purification of drinking water and medical supplies reached the eastern Ukrainian city of Sloviansk. © FDFA
Armed conflict has been ongoing in Ukraine for six years now. It has affected more than five million people, displaced 2.6 million and, by the end of 2019, killed more than 13,000. Approximately 600,000 people are living under very difficult conditions, close to the contact line, against a backdrop of fighting and artillery fire. They face severe shortages of supplies.
Convoy of chemicals to provide clean drinking water
Switzerland is the only state actor to provide humanitarian aid to those affected on both sides of the contact line. Since 2015, Swiss Humanitarian Aid has organised eleven consignments, containing 12,500 tonnes of relief supplies worth over CHF 16 million, destined for those impacted in the east of the country. On 23 July, in the presence of President of the Swiss Confederation Simonetta Sommaruga and Ukrainian President Volodymyr Zelensky, another Swiss convoy of 16 trucks reached the eastern Ukrainian city of Sloviansk, delivering 300 tonnes of water treatment chemicals and medical supplies and equipment.
People on both sides of the contact line need access to clean drinking water, but due to the conflict, the water quality has deteriorated in the region and the risk of hepatitis A infection from contaminated water has increased. Despite the conflict, the Voda Donbasu water utility in Donetsk – one of the largest of its kind in Europe – has continued to supply approximately four million people on both sides of the contact line with clean drinking water. In light of the COVID-19 pandemic, access to clean, safe water is essential, as without it, it is impossible to maintain basic levels of hygiene. Together with the chemicals, two pieces of electrolysis equipment were delivered, which can be used to produce disinfectants and improve water quality. The convoy also contained medical ventilators and protective equipment for hospital staff, which will be used in two hospitals and allow people to access life-saving treatment.
Switzerland is committed to finding a peaceful solution to the conflict
Switzerland's involvement in Ukraine is based around assisting those most in need: Swiss experts working in Ukraine are supporting negotiations between the parties to the conflict. Peacebuilding, humanitarian aid and protective measures, combined with governance reforms, are intended to meet a number of key objectives: a peaceful and lasting resolution of the conflict, compliance with international law, the promotion of human rights and the strengthening of democracy. Switzerland is working closely with both Ukrainian and international partners to implement a range of projects in these areas.
Ukraine: despite the conflict, a country in transition
Ukraine is one of Europe's largest but also poorest countries, where striking contrasts are apparent. The country has significant economic potential, but some parts of Ukrainian territory have not been controlled by the Ukrainian government for more than six years now as a result of the armed conflict and annexation of Crimea. Switzerland has been working to find a peaceful resolution to the conflict as part of negotiations in Minsk.
Following the Euromaidan – protests staged between November 2013 and February 2014 against the then sitting government – a number of reforms were driven through and progress was made. After the presidential and parliamentary elections in 2019, the new government reaffirmed its willingness to continue the reform process, an indication that the country wishes to align itself more closely with European standards. To achieve this, Ukraine must continue to take decisive action against corruption so as to restore and consolidate people's trust in its public institutions.