European policy made simple
With the aim of clarifying the language used when talking about Switzerland's European policy, the Federal Department of Foreign Affairs (FDFA) has produced a first series of 60-second videos explaining in simple terms one of the main elements of Swiss foreign policy.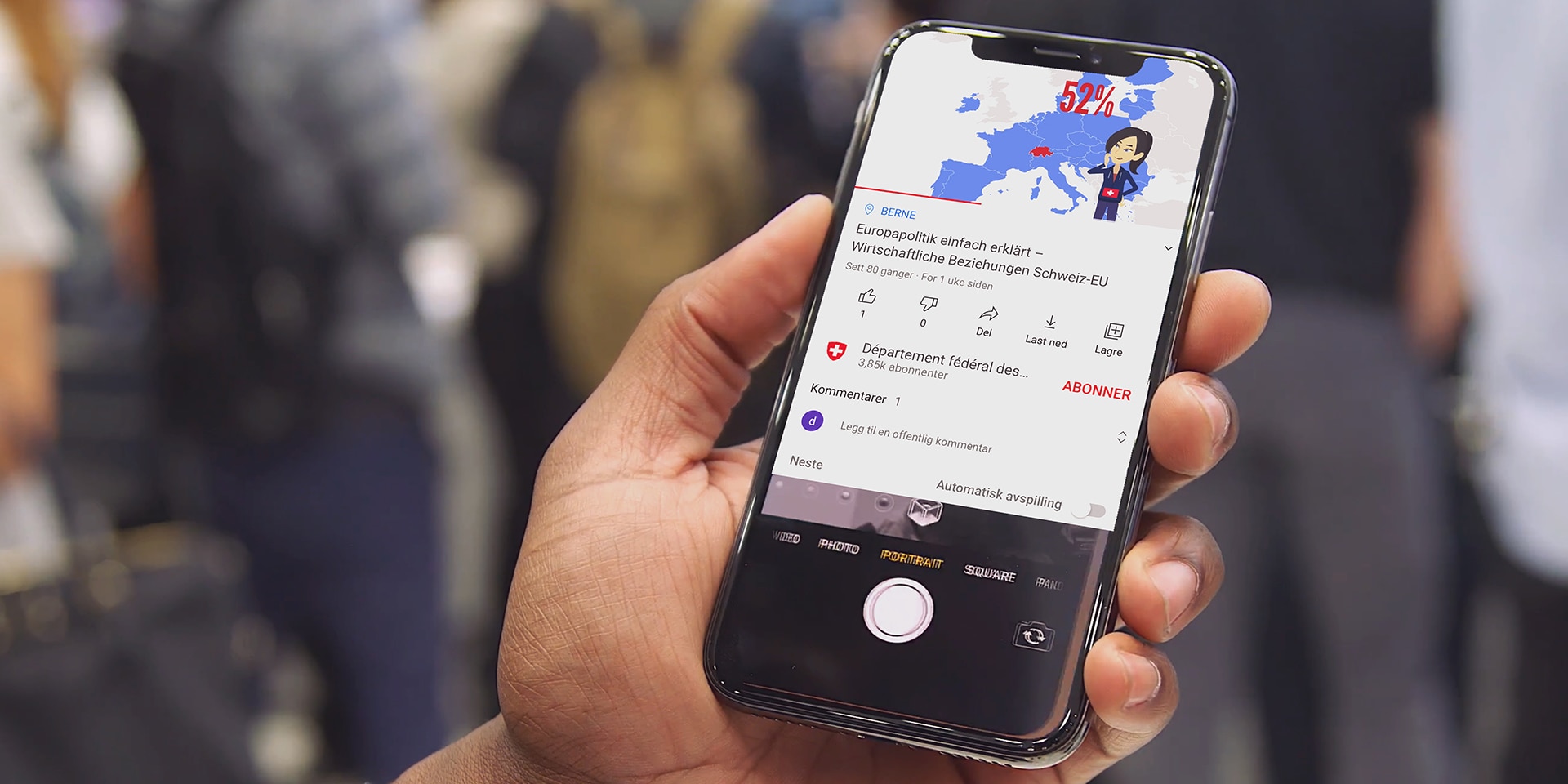 Over the years, Switzerland and the EU have concluded bilateral agreements which have become part of our everyday life. © FDFA
Switzerland is situated in the heart of the Alps, right in the middle of Europe. This central geographical location and the cultural and linguistic ties with neighbouring countries make relations with the European Union (EU) very important for Switzerland's foreign policy and national interests. Swiss-EU relations are close and diverse, covering a wide range of areas such as the economy, research, cooperation in security, trade, culture and asylum procedures.
In all these areas, Switzerland and the EU have concluded bilateral agreements, which have an impact on the daily lives of everyone in Switzerland to some extent or another. To illustrate this connection and explain European policy in a more accessible format for today's audiences, several aspects of Swiss-EU relations have been explained in 60-second videos posted on YouTube and Instagram.
This project is in line with Switzerland's Foreign Policy Strategy 2020–23, which attaches great importance to communication: in particular, digital communication and the communicative potential of social media are to be exploited to help make Switzerland's foreign policy more accessible to the general public. 
Economic and trade relations
Switzerland's economic relationship with the EU is very important. For example, in 2019 some 70% of all goods imported into Switzerland came from the EU, and 52% of Swiss exports went to EU countries. In a single working day, goods worth CHF 1 billion are exchanged between Switzerland and EU countries. The European Union is by far Switzerland's most important trading partner and, above all, trade with neighbouring countries plays a key role in Switzerland's economic prosperity.  
Free movement of persons
The Agreement on the Free Movement of Persons establishes the right of Swiss and EU citizens to freely choose their place of work and residence within the national territories of the contracting parties. This is possible only under certain conditions, e.g. with an employment contract. The Agreement on the Free Movement of Persons forms part of the Bilaterals I package of agreements between Switzerland and the EU, which mainly concern reciprocal market access. 
Bilateral agreements
The most important Swiss-EU bilateral agreements are the Bilaterals I and Bilaterals II. These agreements, approved by the Swiss electorate, give Switzerland and EU member states reciprocal access to each other's markets on a sector-by-sector basis. The Bilaterals I also secure Swiss businesses the same competitive conditions as their EU counterparts.
As an entire package of agreements, the Bilaterals I are legally interdependent: if one is terminated, they are all automatically terminated (the 'guillotine clause'). The most important agreements in the Bilaterals II are the Schengen/Dublin association agreements, which strengthen Europe-wide coordination in the fight against crime and provide for more effective asylum procedures.

Schengen/Dublin agreements
When we talk about the Schengen/Dublin association agreements, we are referring to the Bilaterals II package of agreements. The topics covered are security and asylum applications: Schengen facilitates mobility between Switzerland and other Schengen countries and strengthens international cooperation in criminal matters, while Dublin simplifies the procedure for examining asylum applications.