Switzerland maintains its stepped-up support for Moldova
Switzerland's engagement in Moldova stretches back more than 20 years, and it has stepped up this support since the start of Russia's military aggression against Ukraine. After the emergency phase, the commitment will continue in 2024. Federal Councillor Ignazio Cassis, head of the Federal Department of Foreign Affairs, announced support amounting to some CHF 25 million for next year at the Moldova Support Platform on 17 October 2023. Let's get an overview of Switzerland's work in this Eastern European country.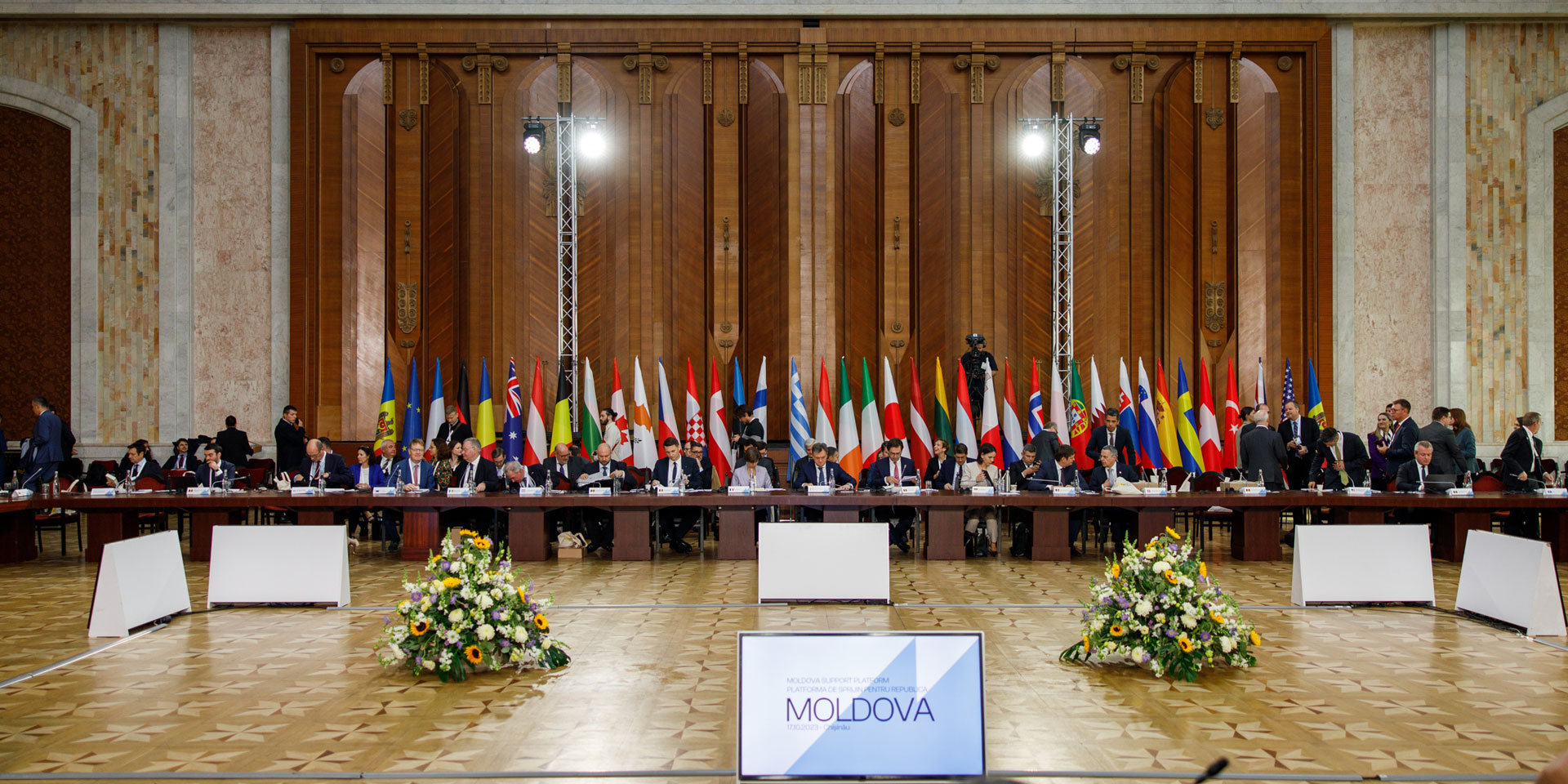 Federal councillor Ignazio Cassis took part in the 4th Moldova Support Platform in Chisinau. © Moldova Support Platform
Bordering directly on Ukraine, the Republic of Moldova has borne the brunt of Russia's military aggression. With nearly 110,000 people who fled Ukraine still living in Moldova today, this small Eastern European country ranks first among states hosting the highest percentage of Ukrainian refugees in their population. Inflation, energy-related problems and the disruption of supply chains are also impacting the country.
This is the context in which the Moldova Support Platform was created in April 2022 Launched by France, Germany and Romania, this platform aims to facilitate coordinated international support to provide immediate political, financial and material assistance to Moldova. On 17 October 2023, Mr Cassis took part in the fourth edition of this event, which was held in Chisinau, the capital. He announced that Switzerland would be supporting the country to the tune of some CHF 25 million for 2024, twice as much as before Russia's attack on Ukraine.
Switzerland has been active in Moldova since 2000. As a long-standing player on the ground, it works in collaboration with the authorities, UN agencies and other multilateral partners, as well as international and national NGOs. How and in what areas is Switzerland working? We've interviewed Guido Beltrani, head of the Swiss Cooperation Office in Moldova, to get some insight here. 
How would you assess the situation in Moldova today?
The country is still heavily affected by the consequences of the ongoing war in Ukraine, and the number of Ukrainian refugees remains very high. This situation is putting pressure on the authorities and the population, forcing them to face new challenges after the COVID-19 pandemic. Their resilience is being sorely tested. The authorities are trying to strike a balance between short-term crisis management and the implementation of medium- and long-term reforms. In this difficult context, their willingness to embark on major reforms with a view to joining the European Union is to be welcomed. Moldova did indeed obtain EU candidate status in June 2022.
Switzerland has been engaged in Moldova via Swiss international cooperation programmes for 20 years. In what areas?
Switzerland is currently at work in three main areas: health, local governance, and the economy and employment. Regarding health, Switzerland's programme supports an integrated, patient-centred approach to healthcare, health promotion and disease prevention. There is a particular focus on non-communicable diseases such as diabetes and cardiovascular disease, as well as mental health. To foster democratic approaches and social cohesion, Switzerland is promoting measures to improve trust and cooperation between local authorities, civil society organisations, independent media and the general public. In terms of the economy and employment, Switzerland is strengthening the resilience of small and medium-sized enterprises and smallholder farmers to help them cope with problems such as rising energy prices and climate change. It is also working to improve the quality of vocational training based on a model similar to the Swiss apprenticeship system. 
How has Switzerland adapted its activities since the war in Ukraine began?
Faced with the large influx of refugees from Ukraine, Switzerland immediately stepped up its engagement and provided humanitarian aid, although its programmes had focused on development cooperation since 2008. A total of 42 experts from the Swiss Humanitarian Aid Unit were deployed there in March and April 2022. They assessed the situation, then set up crisis management structures, provided healthcare services in refugee centres and helped to improve infrastructure at the borders, particularly at Palanca, the most-used crossing point with Ukraine in southern Moldova. Switzerland also sent emergency medical equipment and contributed CHF 19 million to three emergency response funds.
In what way has Switzerland's long-standing presence on the ground facilitated the Swiss support provided after Russia's military aggression against Ukraine started?
In over 20 years of engagement on the ground, Switzerland has acquired expertise, built up a network and become well known to local players. As a result, Switzerland was able to take swift action after the war in Ukraine began. It was able to add a humanitarian component to existing and well-established development cooperation programmes. Indeed, most of the humanitarian interventions are aligned with the three main themes of Switzerland's engagement in Moldova.  
Mr Cassis has announced that Swiss aid to Moldova will amount to some CHF 25 million in 2024. This is double the budget allocated before the start of Russia's war against Ukraine. How will these resources be used on the ground?
First of all, this budget increase reflects Switzerland's ongoing support for Moldova in view of the situation there. Maintaining continuity, Switzerland's thematic priorities will remain essentially the same, i.e. health, local governance, and the economy and employment. The additional funds should allow us to respond to major challenges in these sectors, for example in promoting the reform of emergency care and rehabilitation services. There are also plans to support the fight against corruption in the public sector and in small and medium-sized enterprises. In addition, Switzerland will remain active in the three Moldova Support Platform working groups of which it is a member: humanitarian work, the fight against corruption, and the reform of public administration / public finance management.