COVID-19, peace and human rights: history is accelerating
When we think of COVID-19, we immediately see overcrowded intensive care units with humming ventilators. So what do peace and human rights have to do with the coronavirus? Quite a bit, if you take a look behind the scenes at the FDFA's Human Security Division (HSD). As part of Switzerland's international cooperation activities, the HSD took quick, effective action to tackle head-on the COVID-19 pandemic, among other things by providing CHF 1 million in rapid response funding.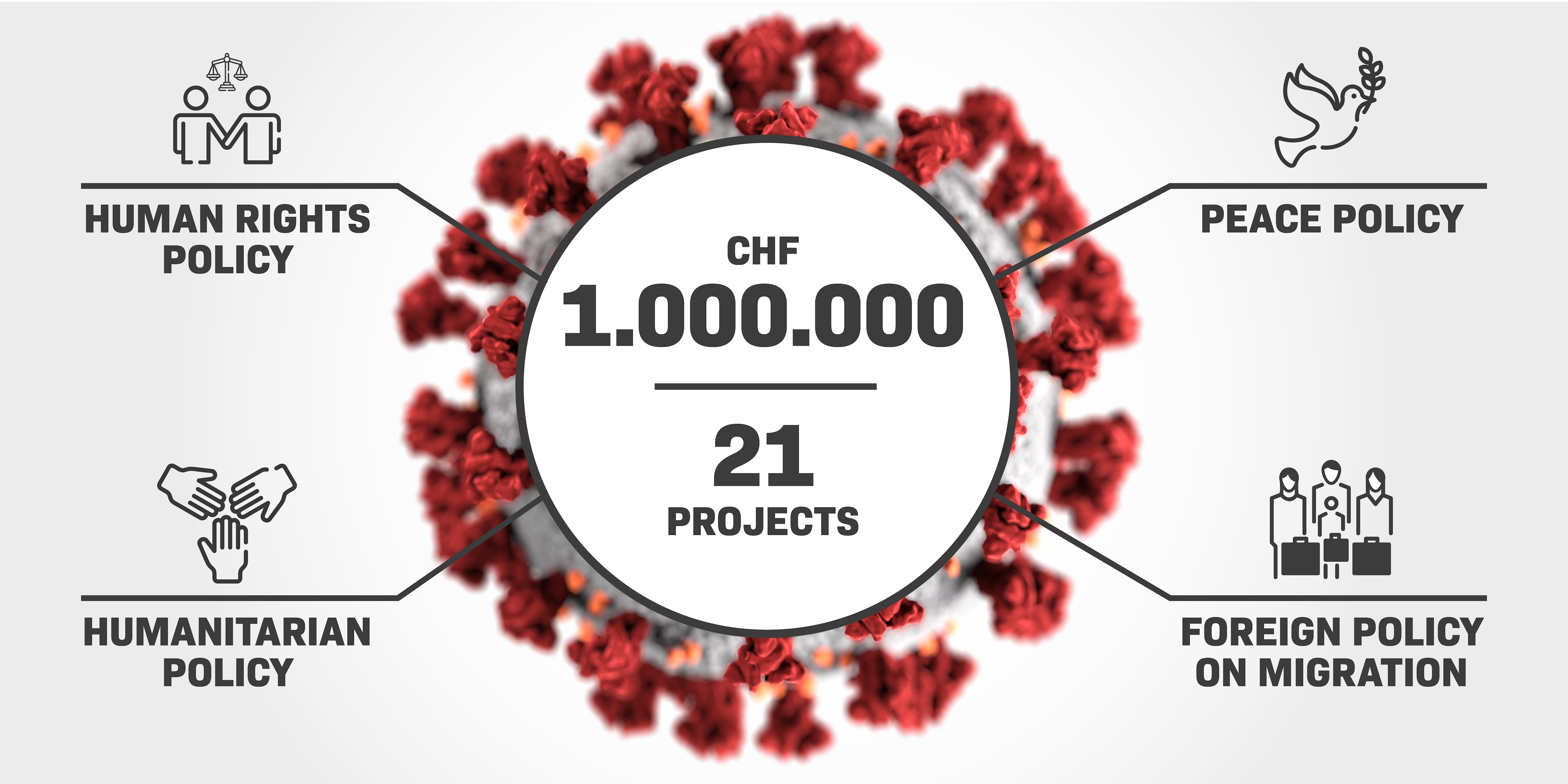 Rapid response: the HSD has allocated CHF 1 million to 21 projects to combat the COVID-19 pandemic. © FDFA
Imagine you live in a dictatorship and you belong to an oppressed minority. You have no access to education, the labour market or medical services. Along comes the COVID-19 pandemic. The number of new infections in your country is growing exponentially. The health system is overwhelmed. After an initial cough and feeling of weakness, you get chest pains and are increasingly short of breath. But you are denied medical help and you are left to your fate – because you belong to the oppressed minority. Unfortunately, this is a reality in certain countries, and it is such situations that the HSD helps to mitigate through its work within the framework of Switzerland's international cooperation.
Protecting human rights is already a challenge in normal circumstances in many parts of the world. It is legitimate and right for states to take measures against the spread of the virus, in order to protect their citizens and overcome the crisis. But emergency measures can be disproportionate and discriminatory and thus violate principles of the rule of law, democracy and fundamental rights. Population groups in countries and regions with pre-existing conflicts or crises are particularly vulnerable.
History is accelerating
The HSD observes that negative global trends which already existed before the crisis are being accelerated by the spread of the coronavirus. COVID-19 exacerbates inequality, exclusion and the need for protection, especially for people who have been forced to leave their homes. The crisis can be exploited for political ends, with governments attempting to weaken the rule of law and human rights through measures that go beyond immediate pandemic control, in order to profit from the pandemic or to fuel already smouldering conflicts. Protective measures can also partially impair Switzerland's diplomatic capacity to act in the interests of human security.
The situation must be especially closely monitored in countries and regions with weak or unstable state institutions and where the population suffers from poverty, conflict, corruption and the arbitrary use of political power. The spread of the virus in such contexts can exacerbate the situation in terms of peace and security:
It can make it more difficult to conduct peace talks between parties to a conflict, although the increased volume of work on both sides in fighting the pandemic may also favour sporadic ceasefires.
Tighter restrictions on freedom of movement can make it more difficult or even impossible for humanitarian aid agencies, such as the ICRC, to gain access to the most vulnerable people. Among those most vulnerable are older people in prisons and refugee camps whose health is already impaired.
The pandemic's impact on the economy could potentially trigger social unrest and repressive backlashes by governments.
Facilities like prisons or refugee camps can become COVID-19 hotspots, where physical distancing is hardly practicable, the medical infrastructure at best rudimentary and hygiene standards often catastrophic.
Xenophobia and racism towards minorities, migrants and refugees may also increase. These groups are among the most vulnerable, as they often have no access to the healthcare system or to information.
Swiss rapid response to COVID-19 for peace and security
The HSD responded rapidly to the rapidly spreading pandemic and the challenges it posed. It allocated CHF 1 million to 21 projects to combat the pandemic and was thus able to support its local partners at short notice, avoiding any unnecessary red tape. Switzerland is making an important contribution to peace and security worldwide in four areas during the crisis:
Human rights policy
Switzerland is supporting global efforts to protect public health and the most vulnerable in the fight against COVID-19. States must however ensure that any emergency response to the pandemic respects international law and that any measures taken to combat the virus are within the law and proportionate. Such measures must be temporary and non-discriminatory.
Protective measures must not restrict freedom of expression or have a negative impact on the work of journalists and human rights defenders. Fake news runs the risk of undermining the authorities' efforts to combat COVID-19. Governments must therefore ensure that credible information about the pandemic is made available quickly and reliably in order to counteract misinformation and hate speech.
States must guarantee healthcare for all. Governments must take special protective measures for people in prisons or camps, older people, people with disabilities or pre-existing conditions, the homeless and people without access to safe drinking water and sanitation.
Humanitarian policy
The COVID-19 pandemic is exacerbating humanitarian needs and posing a threat to the most vulnerable. Parties to armed conflict must ensure swift and constant access for humanitarian aid.
Warring parties are obliged to ensure protection of medical missions – an undertaking that has been enshrined in international humanitarian law for over 150 years. In the face of the pandemic it takes on a new meaning, as it is in all parties' vital interests that the sick and wounded are cared for.
Switzerland is convinced that compliance with international humanitarian law remains as crucial as ever and indeed is a prerequisite for the prevention and containment of COVID-19. The better the civilian population is protected – especially in the event of conflicts and crises – the better their vital needs and rights to water, food and health can be ensured, even in armed conflicts.
Peace policy
Switzerland welcomes UN Secretary-General António Guterres' call for a global ceasefire. In view of the global threat posed by the COVID-19 pandemic, Switzerland encourages the parties to all conflicts to end hostilities and to declare a ceasefire. Switzerland continues to offer its assistance in ending violence through mediation and negotiations, in which it has internationally recognised expertise. Peace is needed today more than ever before, in order to overcome COVID-19.
Foreign policy on migration
In their response to COVID-19, states should take comprehensive measures to protect both migrants and victims of human trafficking, for example in the form of coronavirus tests, medical treatment and services, and social assistance.
Measures to protect the rights and health of the entire population, including all migrants, displaced persons and victims of human trafficking, regardless of their migration or refugee status, are needed urgently and can contribute to the general effectiveness of national measures taken to prevent the COVID-19 virus from spreading further.
"Providing good offices is more important today than ever"
Simon Geissbühler has headed the HSD since 1 April 2020. In this interview he talks about his hectic start and the challenges and opportunities for the HSD in the midst of the COVID-19 pandemic.
Mr Geissbühler, you took up your post in the midst of the COVID-19 crisis. That must have been an additional challenge for you.
Taking over a division with around 120 employees is no easy task at the best of times. But I'd say in some respects COVID-19 made it easier for me to get started: there was no induction period. I had to be operational from day one and I like that kind of challenge. In addition, the committed staff around me in the HSD have made my start easy. But working from home I must say I already miss the direct contact and discussions with colleagues in the office.
Are you at all able to learn the ropes in these circumstances?
When I was appointed at the beginning of November last year, I started to mentally adjust and familiarise myself with the job. I had many discussions and was able to set priorities and goals based on the strategic guidelines. My aspiration is that the HSD should continue to make its important contribution to the coherence and credibility of Swiss foreign policy. We focus on impacts, concrete results and quality, and think and act strategically and in a goal-driven manner.
The HSD is used to working in crisis and conflict situations. To what extent can COVID-19 exacerbate an existing political conflict?
The COVID-19 pandemic and the measures to combat it are having a direct impact on the human security of millions of people and, further down the line, this will also have an impact on Switzerland and its security and prosperity. Many negative global trends are on the rise: the rule of law, human rights, democracy, peace, security, employment and mobility are all coming under increasing pressure and can be adversely affected, especially – but by no means only – in developing countries and fragile contexts. But we also see opportunities, for example in digitalisation. And thanks to COVID-19 some conflicts have actually been given a 'breather' – precious time that can be used for talks. The commitment of the HSD to provide good offices, to help prevent or resolve conflicts, to protect people and their rights and to strengthen the international legal framework is more important than ever today – for reasons of solidarity, but also out of self-interest, because neither the virus nor the effects of the pandemic will stop at Switzerland's borders.
Good offices: a priority of Swiss foreign policy

One of the priorities of the Foreign Policy Strategy 2020–23 is that Switzerland aims to ensure a peaceful and safe world that allows people to live without fear or need, where their human rights are protected and where they can enjoy economic prosperity. Switzerland has an excellent international reputation not only for its humanitarian tradition but also for the good offices it provides: it helps to prevent and resolve conflicts, protect human rights and strengthen the international legal framework. These are also priorities of Switzerland's international cooperation strategy, and are becoming increasingly relevant in the context of the COVID-19 pandemic.