Ignazio Cassis takes the new FDFA strategies to Africa
Federal Councillor Ignazio Cassis will be on an official visit to Africa from 7 to 13 February 2021. He will travel to Algeria, Mali, Senegal and The Gambia, where he will meet with government representatives to discuss implementation of the recently adopted FDFA strategies for the MENA region and sub-Saharan Africa. These set out Switzerland's future engagement in the two regions. Efforts will focus on four thematic areas derived from the Foreign Policy Strategy: peace, security and human rights; prosperity; sustainability; and digitalisation.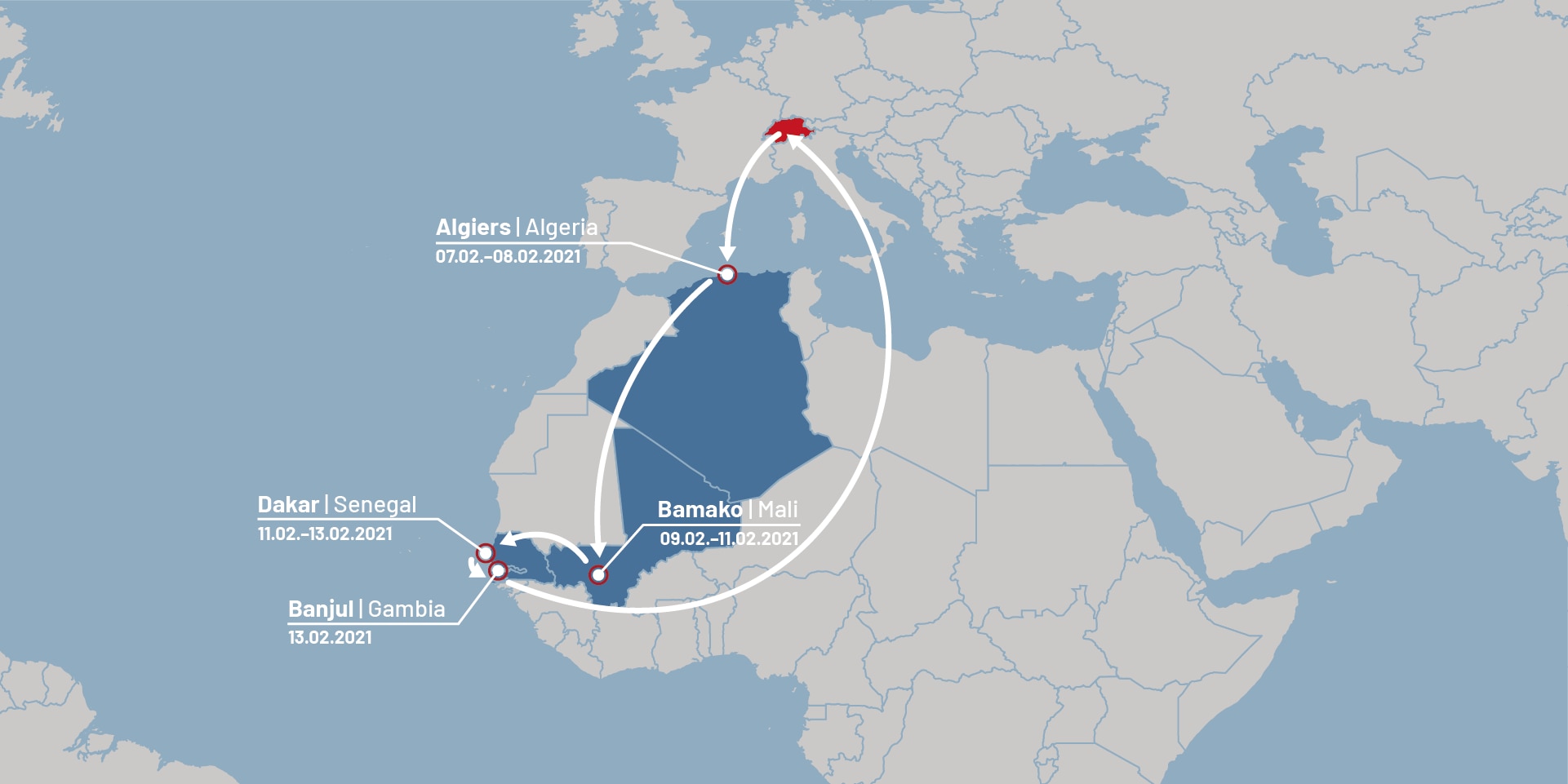 Federal Councillor Ignazio Cassis travels to Algeria, Mali, Senegal and Gambia to official visits from 7 to 13 February 2021. © FDFA
The Swiss foreign minister, Ignazio Cassis, is travelling to Africa to raise awareness of the recently adopted FDFA strategies on the Middle East and North Africa (MENA) region and sub-Saharan Africa. Between 7 and 13 February 2021, he will visit four countries: Algeria, Mali, Senegal and The Gambia,  where he will meet with government officials, UN organisations and Swiss representatives on the ground to present and discuss implementation.  The two strategies, which will run until 2023, aim to make the Swiss foreign policy instruments of diplomacy, economic development and international cooperation work together more effectively.  Through its international cooperation, for example, Switzerland works with the private sector to create decent jobs in developing countries and help boost their economies. Through its trade diplomacy, Switzerland negotiates optimal economic conditions which open up export markets for these countries and enable their economies to diversify further. The two FDFA strategies complement and are aligned with one another. This ensures Switzerland's foreign policy activities are more effective, avoids any overlaps and harnesses synergies between the bodies of the Swiss Confederation involved and external partners.
The image of Africa as a continent of poverty and conflict is one that has endured for years. Yet it ignores the fact that Africa has tremendous political, economic, cultural and scientific potential despite the major challenges it undoubtedly faces. "Many new opportunities are emerging in Africa" is how the head of the FDFA sums up this trend. Over the past two decades sub-Saharan Africa as a whole has achieved impressive economic growth of up to 6.5%. By way of comparison, growth in Switzerland stood at 1.1% in 2019.
The two new strategies, which the Swiss foreign minister will present during his official visit to Africa, address the various challenges but also these opportunities. By supporting the countries' efforts to overcome hurdles, Switzerland helps to build a stronger economic framework and a more secure environment, which will benefit not only local business but Swiss companies too.
Algeria
This North African country is home to around 40 million people and is heavily dependent on the extractive sector for economic growth. However, with falling oil prices, Algeria is seeking to diversify its economy. Since the appointment of a new government in 2019, the country has been focused on restoring social stability. It shares borders with several countries including Mali and Libya which are marked by armed conflict, and is committed to improving security in the region. The MENA Strategy prioritises cooperation with Algeria in the following areas:
Migration
Algeria is both a key transit country for African migrants hoping to reach Europe,  and increasingly also a destination country for migrants.
Switzerland maintains a regular dialogue with Algeria on migration-related issues, in particular readmission of asylum seekers from Algeria who have illegally entered Switzerland. At the same time, it supports projects which aim to help returning migrants integrate into the local job market.
Governance and reforms
Switzerland is working with the Algerian government as part of its international cooperation projects to identify areas in which it can support the country's reform efforts, for example in digitalisation, innovation and dual vocational education and training.
Peacebuilding and security
Ongoing armed conflicts in neighbouring countries undermine security and stability in the region. Switzerland can leverage its proven peacebuilding expertise and globally sought-after good offices to support Algeria with its efforts to advance peace in the Sahel.
Ignazio Cassis to meet with the Algerian prime minister and visit Swiss companies in the region
In Algeria, Mr Cassis will meet Prime Minister Abdelaziz Djerad, Foreign Minister Sabri Boukadoum and Health Minister Abderrahmane Benbouzid. The focus of the talks will be on diversifying bilateral relations, peacebuilding and security in the region, as well as migration-related issues. This will be followed by a meeting with the Algerian–Swiss Business Club.
Mr Cassis will then visit local Swiss companies to discuss vocational education and training – a priority of the MENA strategy – in the Algerian context. 
Mali
Added to the armed conflict which has been ongoing since 2012, Mali has to contend with a humanitarian crisis. Despite these difficulties, the country has great development potential. The economy is highly resilient to the crisis, growing by roughly 5% in 2019. Livestock and crop farming could offer employment prospects for young Malians. The continuing conflict and crisis coupled with the repercussions they have on poverty, governance, education and employment continue to be major obstacles to development. Switzerland provides support in several areas so that the government and people of Mali are able to exploit opportunities and mitigate the effects of the crisis.
Peacebuilding and security policy
The prevention of armed conflict and violent extremism is a key priority of Switzerland's engagement in Mali. Switzerland provides its good offices, including mediation between conflicting parties, dialogue facilitation and civil and military peacebuilding. It also sends civil and military personnel to the UN peacekeeping mission in Mali.
International cooperation
Switzerland supports rural development initiatives across the country. Many of these projects focus on livestock and crop farming. Switzerland promotes competitive, sustainable agropastoral production systems that can boost the incomes of family farms. The longer-term objective of Switzerland's engagement with the private sector is to create decent jobs for young workers and improve the resilience of agriculture to climate change and its consequences.
Humanitarian aid
Switzerland has resumed its development cooperation activities and stepped up its humanitarian aid in the north of the country, which has been racked by violent conflict since 2012. Guaranteeing food and nutrition security are the main priority of Swiss efforts in the region.
Ignazio Cassis to meet the president of Mali and visit Swiss projects
From Algeria, Mr Cassis will travel to Mali, where he will meet with President Bah N'Daw and Foreign Minister Zeyni Moulaye. Talks will focus on peace promotion, development cooperation and humanitarian aid. Mr Cassis will then visit the MINUSMA peacekeeping contingent stationed in Bamako and Swiss-backed rural development projects.
Senegal
Senegal is one of Switzerland's most important trading partners in sub-Saharan Africa. Bilateral relations between Switzerland and Senegal are wide-ranging and focus on security and stability in the region and increased trade. From 1962 to 2010, Switzerland collaborated with Senegal on development cooperation. Urbanisation, population growth and increased agricultural production are placing freshwater resources in the region under even greater pressure.
Prosperity
Switzerland promotes sustainable economic growth in Senegal and across sub-Saharan Africa. Under stable economic conditions, businesses can prosper and create decent jobs. Switzerland supports economic development in the region through trade diplomacy and greater private sector engagement. Machinery, pharmaceuticals and chemicals account for the lion's share of Swiss exports to Senegal. Its main import from Senegal is gold. Given that almost all of Senegal's industrially mined gold is refined in Switzerland, there is an opportunity to improve human rights compliance in the extractive sector.
Sustainability
Switzerland is active in Senegal through Blue Peace, the water diplomacy initiative. Overuse, unsustainable water management and climate change increase the already intense pressure on freshwater resources in the region. Through its engagement, Switzerland seeks to prevent water conflicts by promoting the adoption of an integrated approach to water management, including transboundary water governance. Water is life, and its sustainable management is crucial to stability and peace between Senegal and its neighbours.
Ignazio Cassis to meet the president of Senegal and visit an EPFL project
From Mali, Mr Cassis will travel to Senegal, where he will meet with President Macky Sall and Foreign Minister Aissata Tall Sall in Dakar. The bilateral talks in Dakar will focus on the implementation of the Sub-Saharan Africa Strategy 2021–24, digitalisation and vocational education and training. The Swiss foreign minister will then visit a joint venture between EPFL (the Swiss Federal Institute of Technology in Lausanne) and the Swiss Agency for Development Cooperation (SDC).
The Gambia
Bilateral relations between Switzerland and The Gambia focus mainly on migration and civil aviation. The SDC provides the Gambian population with development assistance through its Global Programmes in West Africa.
Migration
Many Gambian citizens are leaving their country for Europe. Given this situation, Federal Councillors Ignazio Cassis and Karin Keller-Sutter met with Gambian Vice President Isatou Touray in Bern on 12 January 2020 to discuss how both countries could strengthen their cooperation on migration issues. As part of that official visit, representatives of the two countries signed an agreement which allows Switzerland and The Gambia to strengthen their respective efforts in fighting illegal migration. The Gambia is also a beneficiary of the SDC's Global Programme Migration and Development.
Official visits in Africa to end in The Gambia
Federal Councillor Cassis will round off his Africa trip with an official visit to The Gambia. He will meet with Vice President Isatou Touray and his Gambian counterpart Mamadou Tangara. The talks will focus on the good bilateral relations between the two countries. The Swiss foreign minister will then visit a number of detention facilities in the Gambian capital, Banjul.
Federal Councillor Cassis to discuss FDFA strategies in Africa
The head of the FDFA will use his visit to Algeria, Mali, Senegal and The Gambia to talk to local partners and authorities about the priorities and objectives of the MENA and sub-Saharan Africa strategies.
At the end of January 2020, after analysing the current state of the world and evaluating the trends that could shape the future, the Federal Council published its Foreign Policy Strategy 2020–23, setting out its overarching objectives.
The next step involves adapting these objectives to the situation in various regions of the world. Although the objectives are the same, they cannot be implemented the same way everywhere. This is why the FDFA devised strategies specifically for the MENA region and sub-Saharan Africa.
Coordination of the strategies is important to ensure that Switzerland can implement its foreign policy in a coherent manner in all parts of the world. The Foreign Policy Strategy 2020–23 sets the general course with the overarching objectives. This means Switzerland is represented in a coherent and unified way.