Three women talk science
Three women, three stories, three different professional backgrounds connected to science. On the occasion of the International Day of Women and Girls in Science, Natália Archinard, Cecilia Neyroud and Daria Robinson talk to us – from Bern, Mexico City and Geneva, respectively – about their personal and professional backgrounds: from innovation to diplomacy and space – their individual stories and their message to young readers.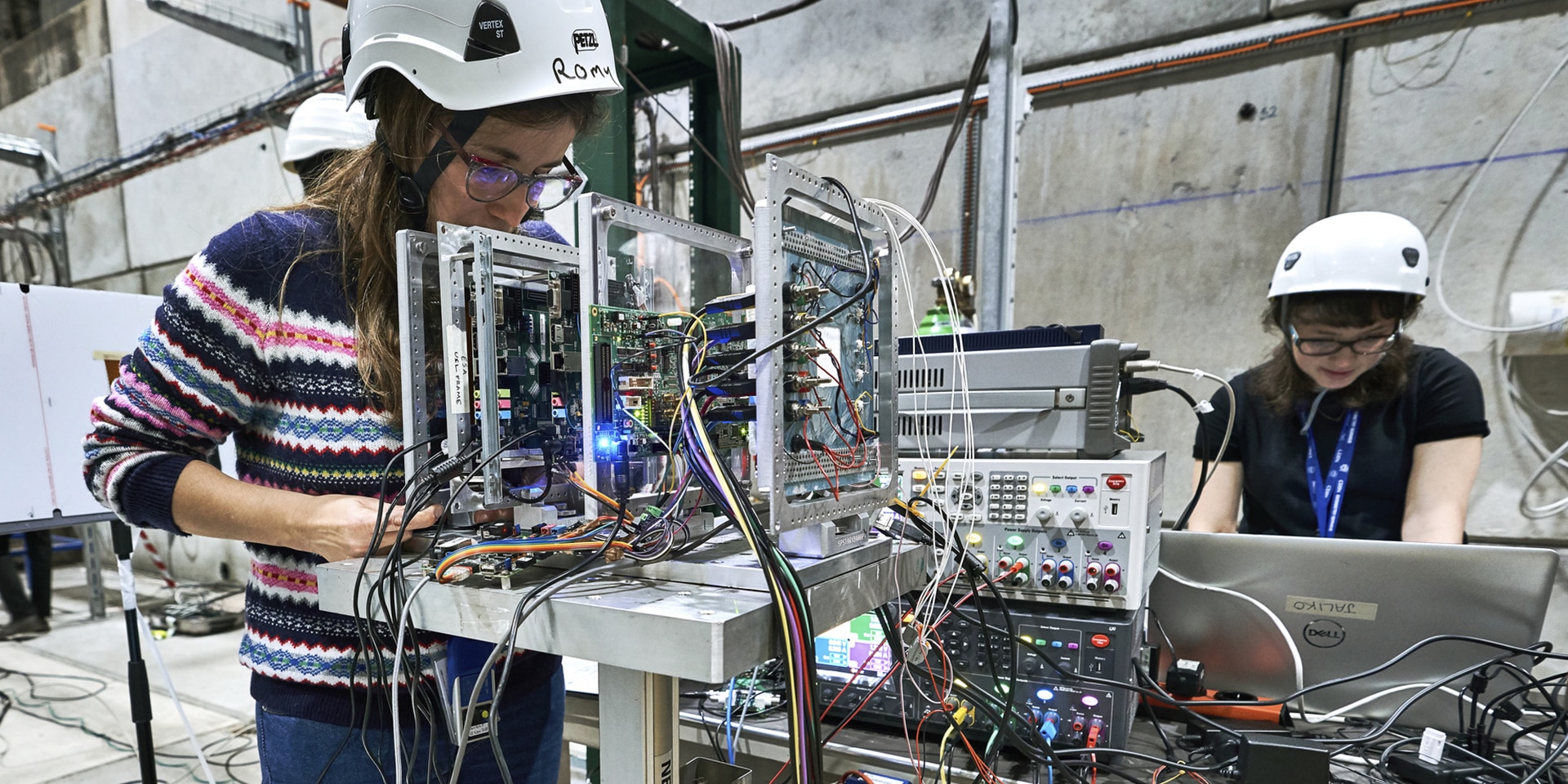 Goal 9 of the 2030 Agenda seeks equal access for all in science and societies that are more inclusive. © Keystone
In 2015, the United Nations General Assembly decided to declare 11 February as the International Day of Women and Girls in Science. That same year, it also adopted the 2030 Agenda for Sustainable Development, which considers gender equality and women's empowerment to be essential to achieving the Sustainable Development Goals. Women are making their mark in the world of science, which offers an excellent variety of professions, career paths and circles.
Space affairs – from Switzerland to the United Nations
Natália Archinard works at the FDFA in the field of space diplomacy. Her story immediately immerses us in an international setting. Natália represents Switzerland on the UN Committee on the Peaceful Uses of Outer Space (COPUOS), where she also serves as Chair of the Scientific and Technical Subcommittee for the period 2020–21. She studied mathematics at the University of Geneva and went on to obtain a PhD in the subject at the Swiss Federal Institute of Technology (ETH) Zurich. "My parents always gave me the same opportunities as my brother. My mother and father both hold a PhD in mathematics. They inspired me to work things out independently and to seek new solutions," explains Natália.
Her education taught her to look critically at her own reasoning and to analyse complex situations. Natália now uses these valuable assets in her work for COPUOS. The 95 member states of this Committee negotiate new political, technical and legal instruments. Yet reaching a consensus and finding common solutions often proves difficult. "I recently represented Switzerland's interests in the context of negotiations that have lasted almost ten years. The objective was to develop guidelines for the long-term sustainability of outer space activities. In 2019, the UN General Assembly adopted 21 guidelines. It was a major success," explains Natália. Switzerland plays an important role in negotiations such as these: "It often facilitates understanding and agreement between other states. This traditional role of Swiss diplomacy is one which I very much enjoy playing and which is consolidated by my role as Chair of the Subcommittee."
Drawing on her own personal and professional experience, Natália encourages young women to explore all fields that interest them: "When you enjoy what you do, it gives you an even greater sense of satisfaction and achievement. You must not forget this when others try to steer you towards a different course." She would also like to remind the not-so-young of the importance of challenging stereotypes: "It is our responsibility to bring about change so that everyone may benefit from equal opportunities and fair conditions. We must open doors for the younger generation so that they may move forward and thrive."
Diplomatic career and foray into the innovation sector
Cecilia Neyroud, on the other hand, writes to us from Mexico City, where she is completing a diplomatic internship. Although she studied international relations at university, the world of science and research has always been part of her day-to-day professional life; she is living proof that you need not be a scientist to promote everything related to this field.
Before starting her diplomatic career at the FDFA, Cecilia worked as part of the international relations team of the State Secretariat for Education, Research and Innovation (SERI). She was tasked with helping Swiss actors (universities, researchers, start-ups, etc.) who sought to collaborate with international partners in the areas of education, research and innovation. "I worked, for example, in close collaboration with our embassy in Bogotá on a cooperative project between Switzerland and Colombia that led to the conclusion of a pilot agreement between SERI and the Colombian foundation COLFUTURO. Thanks to this project more young, outstanding Colombian scientists will be able to carry out part of their research work in Switzerland," explains Cecilia.
In Mexico City, too, science enters the diplomatic arena. Cecilia's daily work involves, among other things, promoting Switzerland as a centre of excellence in the areas of education, research and innovation. Despite its excellent results, other countries are not always aware of Switzerland's strengths in this area. The embassy's mission is to connect the Swiss and Mexican scientific communities. "We are currently working on setting up a collaborative programme between Swiss and Mexican start-ups. This type of programme enables participants to establish lasting ties, which will strengthen collaboration between the two countries in the long run," says Cecilia.
Most people associate the diplomatic profession with men. But throughout her career, Cecilia has been fortunate enough to have met female scientists who have been a great inspiration to her. "I am thinking, for example, of Chloé Carrière (alias Galactic Chloé), who decided to share her passion for astronautics with the general public by launching a host of projects, including a camp, based in the Alps, that simulates a space mission. Women diplomats in high-ranking positions at the FDFA are a further source of inspiration," she says.
From the laboratory to society
Daria Robinson is Executive Director of the Diplomacy Forum of the Geneva Science and Diplomacy Anticipator (GESDA), an initiative co-founded by the FDFA and the Canton and City of Geneva with a view to creating new ties between the scientific community and the sphere of diplomacy.
"When I was 16 years old, an astronaut who had been to the moon visited my school. A spark suddenly ignited in me," she says. This burning curiosity drove her to study astrophysics at the University of Geneva, where she obtained a master's degree. Her scientific education proved to be highly rewarding. "Science teaches us to think differently," Daria continues. "To explain how a galaxy is formed, we have to rely on abstract concepts and equations. We therefore have to simplify: the more complex a concept is, the more we need to make things simple to grasp it. This is a skill that is useful in many areas."
Daria began her career at the European Space Agency (ESA), where she set up the external relations department at the time of the first human spaceflights undertaken with Russia. Encouraged by her teachers, at the end of her master's Daria decided to work with the people, forging links between the scientific community and the general public. While working at ESA, she met her first husband, a NASA astronaut. A new challenge then arose: that of starting a family while remaining open to seizing new opportunities. Daria rose to the challenge by starting her own consulting firm, first in Texas, then in Geneva.
From Russia to the United States, France and Switzerland, Daria has strived to bring science and people closer together over the course of her varied professional experience with governments, industry and academia. How can we facilitate cooperation between different stakeholders in order to promote global scientific and technological initiatives that can contribute towards achieving the goals of the 2030 Agenda?
"Politics, industry, science and the general public all have an important role to play. It is a matter of bringing the right people together at the right time to act in concert. It's like making mayonnaise," explains Daria with a smile. "It is not enough to have all the ingredients: it is only in combining them properly that you achieve the desired outcome." The launch of GESDA is an important step in this direction. The initiative offers an innovative approach: anticipating what advances science is likely to bring in 5, 10 or even 25 years and deciding, together with diplomacy stakeholders, how to proceed in such a way that all humanity benefits from these advances. To this end, the scientific community, governments, international organisations, NGOs and society should be encouraged to come together to discuss highly complex issues, which everyone involved will see from their own perspective. These discussions should result in concrete technological or institutional proposals, and this think tank/do tank aspect is something that Daria enjoys about her work.